Browse:
Home
/
Justine Caldwell
By Steve Rackett on November 16, 2017
Progressive activist and East Greenwich resident Justine Caldwell announced she is considering running for House District 30 against incumbent Republican Anthony Giarrusso. Caldwell was an important part of the effort to remove Joe DeLorenzo from a leadership position in the Democratic Party, and her and husband David Caldwell have been key organizers in the effort […]
Posted in East Greenwich, Elections, Featured, Rhode Island, State House, Women | Tagged Anthony Giarrusso, east greenwich, East Greenwich Town Council, Elections, Feminism, Gayle Corrigan, Justine Caldwell, Rhode Island State House, Sue Cienki | Leave a response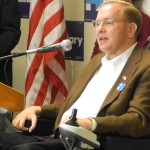 By Bob Plain on October 4, 2017
Langevin voted against H.R. 36, a bill that would prevent abortions after 20 weeks instead of the 24. In the past, Langevin has supported this limitation.
Posted in Congress, Featured, Women | Tagged 20 weeks, Abortion, Congress, HR 36, Jim Lagevin, Justine Caldwell, langevin, late term abortion, Pain Capable Child Protection Act | 1 Response