Browse:
Home
/
Justine Caldwell
By Bob Plain on October 7, 2018
"The #PINKWAVE is here!" says a campaign letter that was mailed to East Greenwich voters last week. It purports to be from a feminist and in support of Justine Caldwell, a Democrat running to represent East Greenwich at the State House. But the House District 30 candidate – who has made #MeToo and reproductive freedom […]
Posted in East Greenwich, Featured, State House | Tagged Antony Giarrusso, east greenwich, Justine Caldwell, pink wave, State House | 1 Response
By Will Weatherly on June 27, 2018
As the deadline to run for elected office came and went Wednesday afternoon, there are more than a few political newcomers—many young, and many centered around social justice—that could constitute the makings of a progressive wave in Rhode Island. Governor Most notable might be the governor's race, where Matt Brown promises to give incumbent Governor […]
Posted in Congress, Elections, Events, Featured, National News, News, Politics | Tagged Aaron Regunburg, Anthony Giarrusso, Anthony Kennedy, Bridget Valverde, Carlos Cedeno, Cassandra Michael, Chris Blazejewski, Dan McKee, Dana Gee, David Cicilline, Dawn Euer, Donna Nesselbush, edith ajello, Elections, Ewa Dzwierzynski, gayle goldin, Gina Raimondo, Harold Metts, Holly Taylor Coolman, James Langevin, Jason Knight, Jeanine Calkin, Jessica De la Cruz, John Carnevale, John Pacheco, Jonathan Hernandez, josh miller, Justice Ameer Gaines, Justine Caldwell, Kat Kerwin, Kenneth Marshall, Laufton Ascencao, Lauren Carson, lauren niedel, Marcia Ranglin-Vassell, Mark Gee, Mark McKenney, Matt Brown, Matthew Perry, Melanie DuPont, Michael Earnheart, Moira Jayne Walsh, Nellie Gorbea, Nick Autiello, Pat Cortellessa, Pat Fontes, Paul Fogarty, Paul Jabour, Paul Roselli, primaries, Ramon Perez, Rep. Mike Chippendale, Salvatore Caiozzo, Sam Bell, Scott Slater, seth magaziner, Shelby Maldonado, Sheldon Whitehouse, Stephen Archambault, Teresa Tanzi, William Hunt Jr. | 5 Responses
By Bob Plain on April 18, 2018
When East Greenwich legislator Anthony Giarrusso was asked about a ban on assault weapons, he talked about a bill banning bump stocks. But when it came time to vote for the bill that bans bump stocks, Giarrusso wasn't there. "This is my sixth session and the first time any major bill was considered on the […]
Posted in East Greenwich, Featured, Gun Control, State House | Tagged bump stocks, east greenwich, Giarrusso, Justine Caldwell, State House | Leave a response
By Steve Rackett on November 16, 2017
Progressive activist and East Greenwich resident Justine Caldwell announced she is considering running for House District 30 against incumbent Republican Anthony Giarrusso. Caldwell was an important part of the effort to remove Joe DeLorenzo from a leadership position in the Democratic Party, and her and husband David Caldwell have been key organizers in the effort […]
Posted in East Greenwich, Elections, Featured, Rhode Island, State House, Women | Tagged Anthony Giarrusso, east greenwich, East Greenwich Town Council, Elections, Feminism, Gayle Corrigan, Justine Caldwell, Rhode Island State House, Sue Cienki | Leave a response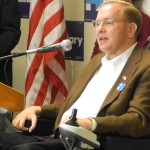 By Bob Plain on October 4, 2017
Langevin voted against H.R. 36, a bill that would prevent abortions after 20 weeks instead of the 24. In the past, Langevin has supported this limitation.
Posted in Congress, Featured, Women | Tagged 20 weeks, Abortion, Congress, HR 36, Jim Lagevin, Justine Caldwell, langevin, late term abortion, Pain Capable Child Protection Act | 1 Response