Browse:
Home
/
Kshama Sawant
By Steve Ahlquist on March 13, 2017
"But I was…" said Molly Henry.
"No. You cannot speak," insisted Providence City Councilor Terrence Hassett, "It's the rule of the chamber."
Posted in Activism, Climate, Corporate Greed, Energy, Environmental Racism, Featured, Infrastructure, National News, Photos, Providence, Video | Tagged Bakken Oil Field, bank of america, Barrack Obama, Brown University, Bryan Principe, Carmen Castillo, citizens bank, Dakota Access Pipeline, DAPL, donald trump, Elizabeth Hoover, Food and Water Watch, Jo-Ann Ryan, JP Morgan Chase, Kshama Sawant, Mary Kay Harris, Molly Henry, No DAPL RI, Providence City Council, Providence City Council Ordinance Committee, Randy Noka, seth yurdin, Sunoco Logistics Partners, Terrence Hassett, WBNA, West Broadway Neighborhood Association | Leave a response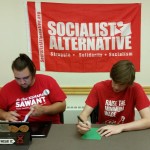 By Steve Ahlquist on July 22, 2015
The two party system is the problem, said James Patin of Worcester Socialist Alternative, and no one candidate, not Sawant, not Green Party presidential candidate Jill Stein, and not even socialist-independent turned Democrat Bernie Sanders is going to be able to challenge the system in a meaningful way by themselves.
Posted in Activism, Class Warfare, Climate, Corporate Greed, Elections, Events, International News, Labor, National News, News, Politics, Rhode Island | Tagged Bernie Sanders, columbus day, Democratic Party, green party, Indigenous Peoples' Day, jill stein, Kshama Sawant | Leave a response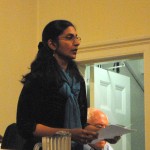 By Steve Ahlquist on September 23, 2014
"As power and money continues to consolidate in the hands of fewer and ever more powerful corporate hands, and as the extinction clock for all life on Earth continues to count down, the revolutionary begins to seem less impossible and more imminent."
Posted in Activism, Class Warfare, Climate, Corporate Greed, Economics, Featured | Tagged Bernie Sanders, Bill McKibben, climate change, Kshama Sawant, Naomi Klein, People's Climate March | 3 Responses