Browse:
Home
/
Latino Policy Institute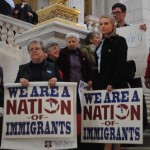 By Steve Ahlquist on September 8, 2017
The Democratic Party has railed against Trump's decision to end DACA in six months but actual action, in the form of legislation that could help undocumented immigrants in RI, has not passed in the Democrat controlled General Assembly.
Posted in Cities and Towns, Civil Rights, Featured, Immigration, Justice, National News, Rhode Island, State House, Youth | Tagged ACLU of Rhode Island, Alliance of Rhode Island Southeast Asians for Education, Blackstone Valley Economic Progress Institute, Cambodian Society of Rhode Island, DACA, DARE, Deferred Action for Childhood Arrivals, Direct Action or Rights and Equality, donald trump, Dorcas International Institute of Rhode Island, driver's licenses, fuerza laboral, General Assembly, ice, Latino Policy Institute, NAACP Providence Branch, providence student union, Providence Youth Student Movement, PrYSM, Refugee Dream Center, Rhode Island Coalition Against Domestic Violence, Rhode Island Democratic Party, Rhode Island State Council of Churches, Sojourner House, United States Immigration and Customs Enforcement | 1 Response
By Steve Ahlquist on September 5, 2017
With the events of Charlottesville and the death of Heather Hyer still smoldering in our memories, hundreds of Rhode Islanders representing dozens of labor, political and advocacy groups came together to celebrate the accomplishments of organized labor and to condemn racism, white supremacy and the rise of fascism.
Posted in Activism, Civil Rights, Events, Featured, Inequality, Labor, News, Photos, Providence, Race & Racism, Rhode Island, State House, Video | Tagged aaron regunberg, AFL-CIO, black lives matter, Brown University, Burnside Park, Charles Jones, Charlottesville, Coalition of Labor Union Women, DACA, Deferred Action for Childhood Arrivals, Democratic Socialists of America, donald trump, DSA, Free Hugo, fuerza laboral, Heather Hyer, Hugo Mejia, IBT Local 251, IUPAT, Javier Juarez, John Brown Gun Club, Justin Kelley, labor day, Latino Policy Institute, Marcia Ranglin-Vassell, Matthew Taibi, Maureen Martin, Michael Araujo, Paul MacDonald, Paul Roselli, Providence Career & Technical Academy, Providence Central Labor Council, providence student union, Raul Figueroa, Resist Hate RI, Rhode Island Jobs with Justice, Rhode Island State House, Right to Work, Sabina Matos, Scott Malloy, seth magaziner, university of rhode island, What Cheer? Band | Leave a response
By Steve Ahlquist on January 5, 2017
Poverty rates tend to decline at a faster rate in states that provide driver's licenses for undocumented immigrants.
Posted in Civil Rights, Featured, Immigration, Inequality, Labor, Poverty, Race & Racism, Rhode Island, Video | Tagged AAA Foundation, Anna Cano Morales, Gina Raimondo, J Alejandro Tirad0-Alcaraz, jorge elorza, Latino Policy Institute, LPI, Nicholas Mattiello, Rhode Island Interfaith Coalition to Reduce Poverty, Roger Williams University, Roger Williams University School of Law, RWU | 1 Response