Browse:
Home
/
Matthew Sheridan
By Bob Plain on February 14, 2017
Some 40 people forcibly crammed into Providence Mayor Jorge Elorza's office and refused to leave until staff personally delivered to him a petition calling for police officer Matthew Sheridan to be fired. Led by Direct Action for Rights and Equality and the Providence Youth Student Movement, they chanted, "No justice, no peace. No racist police." […]
Posted in Activism, Featured, Providence, Race & Racism | Tagged DARE, Matthew Sheridan, Providence, Providence Police, PrYSM | 2 Responses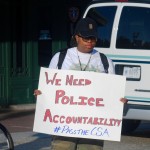 By Steven Dy on January 31, 2017
We are calling on Mayor Elorza, Police Commissioner Steven Paré, and Police Chief Clements to protect the people of Providence by getting Matthew Sheridan off the street.
Posted in Activism, Criminal Justice, Featured, Providence, Rhode Island, Youth | Tagged Charm Howie, Christopher Johnson, Community Defense Project, Esmelin Fajardo, Hugh Clements, jorge elorza, Matthew Sheridan, PrYSM, Steven Pare | Leave a response