By Bob Plain on December 18, 2017
The Federal Communications Commission's voted 3 to 2 to repeal net neutrality, the Obama-era government regulations that guaranteed all websites on the internet get treated equally by service providers. Here are four ways Rhode Island can respond. 1. Sue the FCC. A growing number of states have already said they will do this, including California, […]
Posted in Featured, Media, Technology | Tagged California, massachusetts, net neutrality, New York, Rhode Island | 1 Response
By Fossil Free Rhode Island on May 12, 2017
After 650 arrests over two and a half years, We Are Seneca Lake activists are celebrating a successful campaign that forced Crestwood Equity Partners to retreat from plans to expand methane storage in New York's Finger Lakes region. "It takes consistency and dedication, and we had that," said Laura Salamendra, a member of We Are […]
Posted in Activism, Climate, Energy, Featured, Infrastructure, New York | Tagged Cresstwood Equity Partners, ferc, Finger Lakes, Ithaca, methane, New York, salt cavern, We Are Seneca Lake | 2 Responses
By Steve Ahlquist on November 13, 2016
Mayor Jorge Elorza announced his intention to stand in solidarity with New York and Los Angeles to make Providence a city that will not enforce Donald Trump's anti-immigration policies. But some thought he gave himself too much wriggle room with his commitment to pass the Community Safety Act.
Posted in Civil Rights, Class Warfare, Featured, Homelessness, Immigration, Inequality, National News, Providence, Race & Racism, Religion, Reproductive Rights, Rhode Island, Video | Tagged Community Safety Act, CSA, donald trump, Hope High School, jorge elorza, New York, Providence Police Department | 3 Responses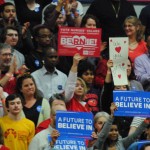 By Bob Plain on April 6, 2016
Make no mistake about it, Bernie Sanders remains a long shot to be the next president of the United States. So you're telling me there's a chance, the loyal Sandernistas respond. As well they should. Yes, there's still a chance Bernie Sanders can finish the primary season with more pledged delegates than Hillary Clinton. And […]
Posted in Featured | Tagged Bernie Sanders, campaign 2016, Democratic Primary, hillary clinton, New York, potus | 3 Responses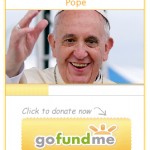 By Steve Ahlquist on July 16, 2015
Since Pope Francis isn't coming to Rhode Island, RI Future is going to the Pope. To do that, we're running a GoFundMe campaign to secure the $1000 I'll need to cover train travel, food, lodging and other expenses. Over the course of five days, from September 23-27, I'll be in Washington DC, New York City and Philadelphia, covering the Pope's visit in my unique way.
Posted in Featured, Religion | Tagged Bernard Healey, Bishop Tobin, catholics, New York, Philadelphia, pope francis, Religion, Roman Catholic Diocese of Providence, Washington DC | Leave a response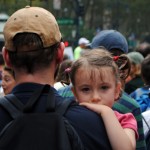 By Steve Ahlquist on September 22, 2014
Yesterday I marched with 400,000 people in New York to demand that government take strong action to save the earth from the catastrophic results of climate change. We were a united humanity taking a stand for everything that is truly important: our lives, our world and our future.
Posted in Activism, Civil Rights, Class Warfare, Climate, Corporate Greed, Featured, Photos, Religion | Tagged climate change, climate march, New York, People's Climate March | 1 Response
By Herb Weiss on March 14, 2014
As my co-editor, Rhode Island College (RIC) President Nancy Carriuolo will tell you that the late Richard Walton clearly understood the power of the emerging Internet and the power social media would wield in our daily lives.  The beloved social activist and educator who put tireless energy and effort into supporting many worthy causes began […]
Posted in Featured, People | Tagged amos house, Brown University, green party, New York, Providence Journal, Rhode Island College, Rhode Island College President Nancy Carriuolo, the nation, The New Republic | 1 Response