Browse:
Home
/
No LNG in PVD Coalition
By Steve Ahlquist on May 2, 2017
"For five hours today, we actually did create a new world where food was free," said Michael Araujo at the end of the day, "We shared each others company equally, safely and beautifully. Children were able to play without any fear. And everyone lifted each other up throughout this entire process."
Posted in Activism, Featured, Holidays, Justice, Photos, Rhode Island, Video | Tagged afsc, BASE, Burrillville Against Spectra Expansion, Community Safety Act, CSA, DARE, Diocese of Providence, Direct Action or Rights and Equality, Environmental Justice League of RI, FANG Collective, green party, May Day March and Rally, Michael Araujo, No LNG in PVD Coalition, Our Revolution-RI, Providence City Council, Providence City Council Ordinance Committee, Providence City Hall, Providence Public School Department, RAGE, Resistance and Action for Gender Equity, Rhode Island Jobs with Justice, RI Department of Education, Socialist Alternative, Standing Up for Racial Justice, SURJ, Textron, Thomas Tobin, US District Court of RI | Leave a response
By Steve Ahlquist on April 17, 2017
"It has been deemed a hazmat site, so there is clean-up that has to take place there. Whenever you have a release of high pressure gas under those circumstances, I'm sure there's going to be hazmat because pipeline gas is not 100 percent clean."
Posted in Climate, Corporate Greed, Energy, Environmental Racism, Featured, Health Care, Infrastructure, News, Photos, Poverty, Providence, Race & Racism, Rhode Island | Tagged Algonquin pipeline, Allens Avenue, Army Corps of Engineers, black powder, Don Ledversis, Environmental Justice League of Rhode Island, Gail Mastrati, Hurricane Barrier, janet coit, Jesus Holguin, Manchester Gate Station, Monica Huertas, national grid, No LNG in PVD Coalition, PCBs, PEMA, Polychlorinated biphenyl, Port of Providence, Providence Department of Public Works, Providence Emergency Management Agency, Providence Fire Department, Rhode Island Public Utilities Commission, RIPUC, Spectra Energy, Terry Maguire, Toxic Tour, Victor Morente | 5 Responses
By No LNG in PVD on April 4, 2017
"Southside should not be a sacrifice zone, but that entire port complex is a disaster waiting to happen. Last night it almost did, and the results would have been catastrophic," said Monica Huertas.
Posted in Activism, Climate, Corporate Greed, Environmental Racism, Featured, Health Care, Infrastructure, National News, Photos, Poverty, Providence, Race & Racism, Rhode Island | Tagged Allens Ave, EJ League, Environmental Protection Agency, EPA, Federal Energy Regulatory Commission, ferc, liquefied natural gas, lng, Monica Huertas, national grid, No LNG in PVD Coalition, Port of Providence, Selene Means, spectra, Washington Park | 1 Response
By Bob Plain on March 9, 2017
Environmental activists are calling for an "end to ethanol deliveries" in Providence after an early morning train accident at the Motiva Enterprises terminal in Providence Wednesday. The Environmental Justice League of Rhode Island (EJLRI), Sierra Club, The FANG Collective (Fight Against Natural Gas) and the No LNG in PVD Coalition said the accident shows why […]
Posted in Climate, Energy, Featured | Tagged ehtanol, Environmental Protection Agency, FANG Collective, Motiva, No LNG in PVD Coalition, Providence, Sierra Club of RI | 4 Responses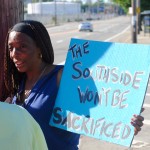 By Steve Ahlquist on February 10, 2017
The No LNG in PVD Coalition (Coalition) is requesting that RIDEM "deny permits related to the Fields Point Liquefaction Project based on environmental justice concerns."
Posted in Activism, Corporate Greed, Energy, Environmental Racism, Featured, Infrastructure, Providence, Race & Racism, Rhode Island | Tagged 2012 Soil Management Plan, aaron regunberg, American Friends Service Committee – South East New England, Anastasia Williams, Chris Blazejewski, Clean Air Act, Clean Water Act, edith ajello, EJ, EJSCREEN, Environmental Justice, Environmental Justice League of Rhode Island, FANG Collective, Federal Energy Regulatory Commission, ferc, Fields Point Liquefaction Project, grace diaz, Hinkley Allen, Joseph Almeida, Kiewit, National Environmental Policy Act, national grid, NEPA, No LNG in PVD Coalition, Paul Jabour, PIP, Providence City Council, Public Involvement Plan, Rhode Island Department of Environmental Management, Rhode Island Sierra Club, RIDEM, Short Term Remedial Action Plans, SMP, STRAPs | 1 Response