Browse:
Home
/
Omni Providence
By Will Weatherly on July 19, 2018
Organizers and workers from Local 26 are picketing the Omni Providence hotel on Friday afternoon to call for fairer access to affordable health care for hotel workers. Omni's contract with the union expired at the end of this January, and the hotel has been in negotiations for a renewed deal since this May. Jonah Zinn, […]
Posted in Activism, Featured, Health Care, Labor, News, Providence | Tagged Aaron Regunburg, hotel workers, Labor, Local 26, Omni Providence, TF Green, Twin River Casino | Leave a response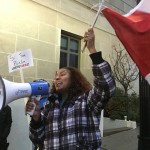 By RI Future on November 13, 2015
Hotel workers at the Providence Renaissance have voted in favor of joining UNITE HERE Local 217 today. Workers rallied after the votes were counted, demanding that The Procaccianti Group, the hotel's owner, begin bargaining a contract in good faith.
Posted in Class Warfare, Featured, Labor, News, Providence, Rhode Island | Tagged Omni Providence, Providence Renaissance, Raquel Cruz, The Procaccianti Group, Unite Here Local 217 | 1 Response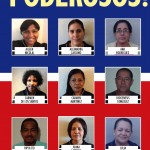 By RI Future on October 21, 2015
"We've been demanding for years that The Procaccianti Group give us a fair process to decide upon unionization, said Hipolito Rivera, a houseman at the hotel. "We call on the hotel to do the right thing. Treat us like equals, not adversaries. Respect us, respect the results of our election and negotiate a fair contract."
Posted in Corporate Greed, Featured, Labor, Providence, Rhode Island | Tagged Omni Providence, Providence Renaissance Hotel, Raquel Cruz, The Procaccianti Group, Unite Here Local 217 | 1 Response