Browse:
Home
/
Rhode Island Foundation
By Steve Ahlquist on September 18, 2017
Rhode Island Governor Gina Raimondo announced funding to cover every Rhode Island DACA recipient eligible to renew their application before the October 5 deadline.
Posted in Central Falls, Civil Rights, Class Warfare, Featured, Immigration, International News, National News, News, Providence, Race & Racism, Rhode Island, State House, Video, Women, Youth | Tagged CASO, Coalition of Advocates for Student Opportunities, DACA, Deborah Gonzalez, Deferred Action for Childhood Arrivals, donald trump, Dorcas International Institute, Dreamers, Gina Raimondo, Immigration Clinic at the Roger Williams University School of Law, Neil Steinberg, Office of Constituent Affairs, Pro Bono Collaborative at the Roger Williams University School of Law, Progreso Latino, Rhode Island Center for Justice, Rhode Island Foundation | 1 Response
By Steve Ahlquist on January 8, 2017
Powerful business interests spend the day hammering out their legislative priority wishlist and present them directly to elected officials. One-stop shopping.
Posted in Business, Class Warfare, Corporate Greed, Economics, Energy, Events, Featured, Inequality, Infrastructure, Labor, News, Photos, Politics, Rhode Island, State House, Video | Tagged Bryant University, Bryant University Academic Innovation Center, Center for Women & Enterprise, Daniel DaPonte, Daniel MicKee, Deborah Ruggiero, Dominick Ruggerio, Evan Shanley, Gary Ezovski, Gina Raimondo, Grafton Willey, Jean-Phillippe Barros, John Gregory, john simmons, Joseph McNamara, Len Lardaro, Leonidas Raptakis, Mark Deion, Mary Ann Shallcross Smith, Miriam Ross, Neil Steinberg, Nellie Gorbea, Nicholas Mattiello, Oscar Mejias, Ralph Coppola, Rhode Island Foundation, Rhode Island Public Expenditures Council, Rhode Island Small Business Economic Summit, RIPEC, Robert Lancia, Sandra Cano, senate finance committee, seth magaziner, social safety net, Susan Rittscher, university of rhode island, US Small Business Administration | 4 Responses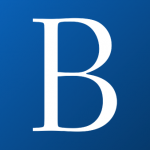 By Steve Ahlquist on January 19, 2016
In a state with over 14 percent poverty and nearly 1 in 5 children living in poverty, you'd think a report on creating a better economic climate might address the subject more forthrightly.
Posted in Business, Class Warfare, Corporate Greed, Economics, Featured, National News, News, Poverty, Rhode Island, State House | Tagged Brookings Institute, Gina Raimondo, Peter Fisher, Rhode Island Foundation, Tax Foundation | 3 Responses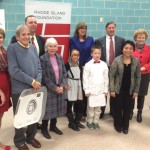 By Chris_Barnett on December 19, 2014
Nearly 160 teachers in five urban school districts are getting more resources for classroom innovation thanks to $148,000 in grants from the Rhode Island Foundation. Full-time third-grade teachers in any public or charter school in Central Falls, Newport, Pawtucket, Providence and Woonsocket were eligible to for Spark Grants of up to $1,000 to fund programs […]
Posted in Education, Featured | Tagged Central Falls, Education, Newport, pawtucket, Providence, Rhode Island Foundation, Woonsocket | 1 Response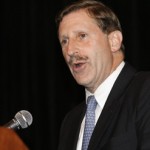 By Bob Plain on January 23, 2014
Monday Jan 23, 2013 North Kingstown, RI – Good morning, Ocean State Futurists. This is Bob Plain, editor and publisher of the RI Future blog podcasting to you from The Hideaway on the banks of the Mattatuxet River behind the Shady Lea Mill in North Kingstown, Rhode Island. Today is Thursday, January 23 and our […]
Posted in Featured | Tagged Rhode Island Foundation, rif radio | 2 Responses
By Greg Gerritt on November 9, 2012
Every year I write an essay on the spirit of the Buy Nothing Day Winter Coat Exchange and how to heal the economy, ecosystem, and communities of Rhode Island using the principles of use less, share more.  Often I dedicate the essay to those trying to end poverty, war, or planetary destruction, or in jest […]
Posted in Featured | Tagged buy nothing day, Rhode Island Foundation | 5 Responses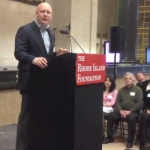 By Bob Plain on April 12, 2012
The Rhode Island Foundation honored the winners and finalists of its first even Innovation Fellowships at an event at the Superman Building Wednesday night. Winners Soren Ryherd, who plans to leverage the power of the internet to help small businesses fill vacant storefronts in Providence and elsewehere, and Allan Tear plans to do for arts […]
Posted in Economics, Events, Featured, Rhode Island | Tagged allan tear, Rhode Island, Rhode Island Foundation | 2 Responses
By Thom Cahir on August 7, 2011
In these economic times, everyone depends on help from somewhere and Rhode Island's non-profit agencies probably more so than anyone. That's where our friends at the Rhode Island Foundation play such a major role. For those of you unfamiliar with RIF, they are the pre-eminent leader in community philanthropy in the state and provide guidance, […]
Posted in News, Rhode Island | Tagged Rhode Island Foundation | Leave a response