Browse:
Home
/
Rhode Island General Assembly
Rhode Island General Assembly
By RI Future on November 14, 2015
As in previous years, students with disabilities and students of color served a disproportionate amount of these suspensions…
Posted in Civil Rights, Class Warfare, Education, Featured, News, Race & Racism, Rhode Island, State House, Youth | Tagged American Civil Liberties Union of Rhode Island, Hillary Davis, Rhode Island Department of Education, Rhode Island General Assembly, school suspensions | 2 Responses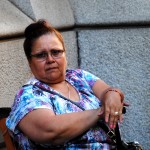 By Steve Ahlquist on September 18, 2015
Hotel workers at the Providence Hilton and Renaissance hotels in downtown Providence are still working without a contract, and are still experiencing work-related injury and illness at rates 69% higher at the Hilton and 85% higher at the Renaissance Hotel than the national average. Last night workers rallied at the Providence City Hall entrance used by Providence City Council members to let them know that The Procaccianti Group (TPG), the company that runs both hotels, is literally grinding profits out of the long term health of their employees.
Posted in Activism, Class Warfare, Corporate Greed, Photos, Rhode Island | Tagged Mike Araujo, Providence City Council, Providence City Hall, Providence Hilton Hotel, Providence Renaissance Hotel, Rhode Island General Assembly, The Procaccianti Group, TPG, Unite Here Local 217 | Leave a response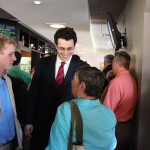 By Steve Ahlquist on November 18, 2014
"I believe in 'little d' democracy," said Regunberg to the assembled voters, before asking those present to suggest topics of political concern. "Education" was suggested first, then "public banking," "violence," "the environment" and a dozen more.
Posted in Activism, Events, Featured, State House | Tagged aaron regunberg, democracy, Rhode Island General Assembly | 2 Responses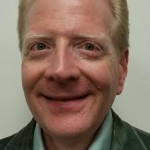 By Herb Weiss on July 17, 2014
Olon Reeder, a slight-figured, unassuming, behind-the-scenes kinda guy, has been quietly improving the quality of life in northern Rhode Island for decades as a public affair adviser for the Blackstone Valley Tourism Council. With his years of working in the public sector, as legislative assistant with the Rhode Island General Assembly in the mid-to-late 1970s, […]
Posted in Featured | Tagged Blackstone Valley Tourism Council, Rhode Island General Assembly | 1 Response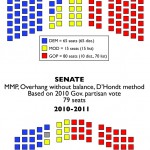 By Samuel G. Howard on July 29, 2013
The biggest limitation of looking at all this is it's trying to fit a square peg in a round hole, so to speak. First Past the Post requires voter to vote strategically. It's simply not worth the risk to vote for the candidate you truly believe in in a three-way race if it means a […]
Posted in Elections, Featured | Tagged election reform, mixed-member proportional representation, Rhode Island General Assembly | Leave a response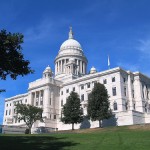 By Brian Hull on March 13, 2013
So, yesterday was the day when Senate President Teresa Paiva Weed threw down 25 bills that she hopes will "improve Rhode Island's business climate and its position on national business-friendliness surveys."  After years of bad decisions and then paralysis, the General Assembly now has a collection of bills to review that stem from the recommendations […]
Posted in Business, Economics, Featured, Rhode Island, State House, Taxes | Tagged Moving the Needle, Rhode Island General Assembly, teresa paiva weed | Leave a response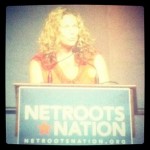 By Samuel G. Howard on December 8, 2012
So in the 2011-2012 General Assembly class, roughly 1 in 4 legislators were lawyers. Now, that's a considerable over-representation. Thus it's not surprising to me that the legislature typically starts its session about the time court gets out. Lawyers are also adept at writing laws, typically in legalese (despite there being more efficient and understandable […]
Posted in Featured, Politics, State House | Tagged Ken Block, public service, Rhode Island General Assembly, Teresa Tanzi | 6 Responses