By Kinverly Dicupe and Rekha Rosha on June 27, 2017
For students like me, who are eligible for the full Pell Grant (federal funding for college students), community college is already free. That means the RI Promise Scholarship does not change anything for folks like me. But in its original form, it would have covered the gap between federal funding and the tuition at RIC or URI.
Posted in Education, Featured, State House | Tagged ccri, Gina Raimondo, ri promise, ric, State House, URI | 1 Response
By Steve Ahlquist on May 11, 2017
"I want to go to college, but low-income students like me have to rely on student loans that don't even cover the full price," said Jayleen Salcedo, a senior at Classical High School and a member of the Providence Student Union (PSU).
Posted in Activism, Education, Featured, Inequality, Photos, Poverty, Rhode Island, State House, Video, Women, Youth | Tagged AFT, arole Marshall, blackstone academy, Classical High School, Community College of Rhode Island, Gina Raimondo, Jayleen Salcedo, providence public schools, providence student union, psu, Quenby Hughes, Rhode Island College, Rhode Island Promise, Rhode Island State Council of Churches, Rhode Island State House, ric, RIC Adjuncts Union, RIC Professional Staff Association, RIC/AFT Faculty Union, university of rhode island, URI, Young Voices | Leave a response
By Bob Plain on March 16, 2017
Governor Gina Raimondo told the House Finance Committee that her proposal to make two years of public college free to local high school students "could be a game changer for Rhode Island." The Rhode Island Promise proposal, she explained, "is all about making sure Rhode Islanders are getting all the good jobs that businesses are […]
Posted in Education, Featured, State House | Tagged ccri, education uri, Gina Raimondo, house fin com, ri promise, ric, State House | 15 Responses
By Bob Plain on February 22, 2017
Michelle Terminesi, of Wakefield, has a son in college and a daughter on the way. She and her husband don't really know how they are going to pay for it. "We have two people in our family who are trying to make a better life for themselves through college," she said yesterday, while speaking at […]
Posted in Class Warfare, Education, Featured, Inequality, State House | Tagged ccri, Education, free college tuition, Gina Raimondo, Rhode Island's Promise, ric, URI | Leave a response
By Bob Plain on January 16, 2017
Taking a page out of Bernie Sanders' playbook, Rhode Island Governor Gina Raimondo announced today a plan to offer free tuition to Rhode Islanders at the the three public colleges in the state. "We are going to stand up and make the college dream a reality for every Rhode Islander who wants it," Raimondo is […]
Posted in Education, Featured, State House | Tagged ccri, free tuition, Gina Raimondo, Rhode Island Promise Scholarship, ric, URI | 4 Responses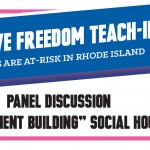 By Planned Parenthood Votes! RI PAC on March 1, 2016
Our Reproductive Freedom Teach-In is on March 2nd from 6:30-8:30. Join us to learn why abortion rights are at risk in Rhode Island and what we can do about it! We are excited to announce our teach-in panelists who will lead us in a discussion on reproductive freedom. Learn more about the Supreme Court Case […]
Posted in Featured, Reproductive Rights | Tagged Gina Rodríguez-Drix, pablo rodriguez, Planned Parenthood, reproductive freedom, ric | Leave a response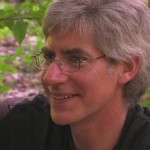 By Bob Plain on May 3, 2012
Nationally-regarded sustainability expert Jim Merkel will be speaking at Rhode Island College tonight at 7 p.m. "He is by far one of the most respected thinkers on the topic in the country," according to an email announcing the talk. "I guarantee that you will come away thinking about this world differently." The author of "Radical […]
Posted in Events | Tagged Rhode Island, ric, sustainability | Leave a response