By Steve Ahlquist on April 3, 2017
"You pass this law [increasing the minimum wage], there are going to be dirtier restaurants," said restaurant broker Scott Sogard, "I hope you increase the budget for the health department."
Posted in Class Warfare, Cumberland, Featured, Massachusetts, Minimum Wage, Photos, Portsmouth, Poverty, Rhode Island, State House, Video | Tagged aaron regunberg, AFL-CIO, Angelo's Palace Pizza, Associated Builders and Contractors of Northern Rhode Island, Bahjat Shariff, Bill Kitsilis, Burger King, Charles Jones, Chris Tarro, Clements Marketplace, david bennett, Douglas Hall, Economic Progress Institute, Elizabeth Seuver, Emmanuel Falck, Energy Markets Association, EPI, fdr, fuerza laboral, Georgia Hollister-Isman, Greater Providence Chamber of Commerce, House Judiciary Committee, House Labor Committee, john simmons, Kenneth Mendonca, Lennette Boiselle, Lou Ferrazzano, Marcia Ranglin-Vassell, Maureen Martin, Michael Beauregard, Michal Araujo, minimum wage, Moira Walsh, Murphy's Deli & Bar, National Industrial Recovery Act, New England Convenience Stores, Northern Rhode Island Chamber of Commerce, opportunity wage, Panera Bread, patricia morgan, Raul Figueroa, Rebecca Kislak, Rhode Island Hospitality Association, Rhode Island Mortgage Bankers Association, Rhode Island Public Expenditures Council, RI Jobs with Justice, RI NOW, RI Working Families Party, RIHA, RIPEC, Robert Craven, Ruth Ferrazzano, Scott Sogard, seiu 1199, Sienna Restaurants, Taco Bell, Tracy Clements Anthony, Wall Street, Young Democrats of Rhode Island | 2 Responses
By Steve Ahlquist on February 23, 2017
RIPEC's executive director John Simmons pulls out every bad economic argument he can in opposition to raising the minimum wage in Rhode Island despite acknowledging that the proposed increase is 'relatively modest.'
Posted in California, Class Warfare, Connecticut, Corporate Greed, Economics, Featured, Labor, Maine, Massachusetts, Minimum Wage, New Hampshire, Poverty, Rhode Island, State House, Vermont, Washington | Tagged Congressional Budget Office, Douglas Hall, earned income tax credit, EITC, john simmons, Marvin Abney, minimum wage, Rhode Island Department of Labor and Training, Rhode Island Public Expenditure Council, RI DLT, RI House Finance Committee, RIPEC, S Department of Labor | Leave a response
By Steve Ahlquist on February 17, 2017
The undersigned members of the Rhode Island Business Coalition wish to express our opposition to Article 20 (Relating to Minimum Wages) of the Governor's FY 2018 budget proposal.
Posted in California, Class Warfare, Connecticut, Corporate Greed, Economics, Featured, Inequality, Maine, Massachusetts, Minimum Wage, New Hampshire, Poverty, Rhode Island, Vermont, Washington | Tagged Ashley E Ranslow, Bill Vernon, Dale Venturini, East Providence Area Chamber of Commerce, Erin Donovan-Boyle, Grafton Wiley, Laura A McNamara, Marvin Abney, minimum wage, National Federation of Independent Business, New England, Newport County Chamber of Commerce, Ralph Coppola, Rhode Island Business Coalition, Rhode Island Department of Labor and Training, Rhode Island Hospitality Association, Rhode Island Lumber and Building Materials Dealers Association, Rhode Island Public Expenditure Council, Rhode Island Small Business Economic Summit, Rhode Island Society of Certified Public Accountants, RI DLT, RI House Finance Committee, RIPEC, Robert A. Mancini, Robert Shea, SBANE, Smaller Business Association of New England | 1 Response
By Steve Ahlquist on January 8, 2017
Powerful business interests spend the day hammering out their legislative priority wishlist and present them directly to elected officials. One-stop shopping.
Posted in Business, Class Warfare, Corporate Greed, Economics, Energy, Events, Featured, Inequality, Infrastructure, Labor, News, Photos, Politics, Rhode Island, State House, Video | Tagged Bryant University, Bryant University Academic Innovation Center, Center for Women & Enterprise, Daniel DaPonte, Daniel MicKee, Deborah Ruggiero, Dominick Ruggerio, Evan Shanley, Gary Ezovski, Gina Raimondo, Grafton Willey, Jean-Phillippe Barros, John Gregory, john simmons, Joseph McNamara, Len Lardaro, Leonidas Raptakis, Mark Deion, Mary Ann Shallcross Smith, Miriam Ross, Neil Steinberg, Nellie Gorbea, Nicholas Mattiello, Oscar Mejias, Ralph Coppola, Rhode Island Foundation, Rhode Island Public Expenditures Council, Rhode Island Small Business Economic Summit, RIPEC, Robert Lancia, Sandra Cano, senate finance committee, seth magaziner, social safety net, Susan Rittscher, university of rhode island, US Small Business Administration | 4 Responses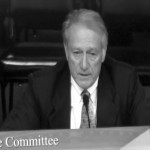 By Steve Ahlquist on April 3, 2014
Last evening the RI House Finance Committee heard testimony on two bills that would increase the marginal tax rate on people making more than $200,000 a year. Representative Maria Cimini proposed a 2% increase, from 5.99 to 7.99% on incomes over $250,000, while Representative Larry Valencia proposed a 4.01% increase on incomes over $200,000 for […]
Posted in Class Warfare, Corporate Greed, Economics, Featured, Taxes | Tagged cimini, gallison, house finance, Rhode Island State House, RIPEC, tax equity, valencia | 1 Response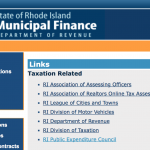 By Samuel Bell on January 23, 2014
Here's a revealing nugget about how conservatives win the policy debates in our state:  If you spend a lot of time trying to understand the Dickensian world of city and town budgets, like I do, you're going to wind up spending a lot of time on the Department of Revenue's municipal finance website.  They provide […]
Posted in Featured, State House | Tagged Rhode Island State House, RIPEC | 1 Response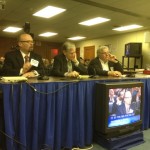 By Bob Plain on December 27, 2012
Gary Sasse is generally an honest actor and sometimes a smart economist, but his piece in today's Providence Journal displays neither of these attributes. Sasse argues that because the governor did not follow the bad advice of right-wing think tank he used to lead that, "Rhode Island leaders are denying economic reality." Not only is […]
Posted in Economics, Featured | Tagged chafee, Economy, EDC, Gary Sasse, RIPEC | 3 Responses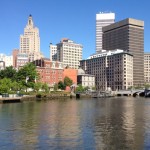 By Bob Plain on September 27, 2012
Rep. Jon Brien thinks he can retain his House seat without winning the election. His path to victory: eliminating the man who beat him in a primary. Brien thinks the federal Hatch Act might prohibit fire fighter Stephen Casey from serving in the state legislature because the Woonsocket Fire Department got a $300,000 grant from […]
Posted in Featured | Tagged Cranston, father-daughter dance, jon brien, nfl refs, RIPEC | 8 Responses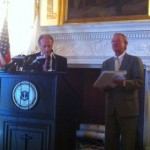 By Bob Plain on September 26, 2012
Take a look at RIPEC's board of directors – they are largely bankers, lawyers, health care professions and business executives – and it shouldn't surprise that the pro-business lobby and advocacy organization wants the DEM to be subservient to a proposed commerce secretary. Of course environmental management is in no way, shape or form simply […]
Posted in Economics, Featured | Tagged chafee, DEM, janet coit, john simmons, RIPEC | 3 Responses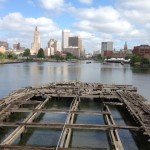 By Bob Plain on September 26, 2012
It's no secret that Rhode Island needs a new strategy for economic development but RIPEC's new report offers little in the way of real solutions to this conundrum. Instead, the business-backed lobby and advocacy group used the opportunity as a power grab for its laissez-faire agenda. We'll post more on this later, but for now […]
Posted in Featured | Tagged marriage equality, nfl refs, RIPEC | Leave a response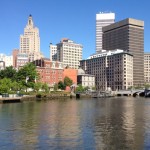 By Bob Plain on September 25, 2012
It seems RI Future and RIPEC agree on at least one thing. "Rhode Island does not have a clear vision of how to expand its economy or a governmental structure that helps create jobs, encourage companies to expand, attract businesses and develop workers' skills," reports the Providence Journal about RIPEC's report on the EDC this […]
Posted in Featured | Tagged Central Falls, Cranston, father-daughter dance, Gina Raimondo, james diossa, Mitt Romney, RIPEC | 1 Response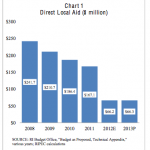 By Bob Plain on April 2, 2012
A new report from the Rhode Island Public Expenditure Council confirms an idea that RI Future has been reporting on for a month now, namely that state cuts to cities and towns are a big factor in the state's struggling cities inabilities to balance their budgets. Since 2008, says the report, state aid to cities […]
Posted in Economics, Featured, Rhode Island | Tagged Rhode Island, RIPEC, state aid | 2 Responses