Browse:
Home
/
Roland Gauvin
By Steve Ahlquist on February 13, 2017
The RI congressional delegation, including Senators Jack Reed and Sheldon Whitehouse and Representatives James Langevin and David Cicilline in the 'hot seat' for about 90 minutes of questions from sometimes angry and confrontational constituents.
Posted in Activism, Civil Rights, Climate, Congress, Corporate Greed, East Providence, Events, Featured, Housing, Immigration, Inequality, Infrastructure, International News, Minimum Wage, National News, Photos, Politics, Video | Tagged 1996 Congressional Review Act, aca, Affordable Care Act, Ben Carson, burrillville, Chris Murphy, Citizens United, Dan Coats, David Cicilline, Deborah Lennon, Democratic Socialists of America, Dick Blumenthal, donald trump, East Providence High School, Georgia Hollister-Isman, HUD, Indivisible RI, jack reed, James Kennedy, James Langevin, Jamestown Sanctuary, Jametown Town Council, Jane Tucker, Jeff Sessions, Linda McMahon, Merrick Garland, Neil Gorsuch, obamacare, Rhode Island, Rhode Island Town Hall, Roland Gauvin, Samuel Bell, Sheldon Whitehouse, Small Business Administration, Steven Fischbach, Transport Providence, Unity Government, Working Families Party of RI | 2 Responses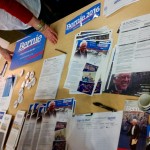 By Steve Ahlquist on March 10, 2016
To see the power of Sander's campaign up close, even at a micro-scale, is revelatory. Sanders says he is leading a political revolution. Sometimes I actually find myself believing that.
Posted in Activism, Elections, Events, Featured, News, People, Photos, Rhode Island, Video, Youth | Tagged Bernie Sanders, hillary clinton, Joseph McNamara, lauren niedel, Linda Ujifusa, Nellie Gorbea, Roland Gauvin, Sally Mendzela | 1 Response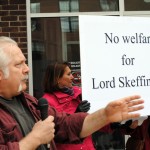 By Steve Ahlquist on April 28, 2015
"Providence is not a minor league city," said Asher Schofield, "We are what we dream ourselves to be. What we want to be. And we want to be major league. These are antiquated notions, the idea of public financing of private enterprise. This [deal] is not the grand notion that we need to have as a city moving forward… These minor league aspirations are beneath us."
Posted in Activism, Class Warfare, Corporate Greed, Economics, Events, Featured, National News, News, Photos, Politics, Poverty, Providence, Rhode Island, Sports, State House, Taxes, Video | Tagged capital good fund, DARE, direct action for rights and equality, Fred Ordonez, Gina Raimondo, green party, greg gerritt, James Skeffington, Larry Girouard, lauren niedel, Medicaid, Occupy Providence, Pat Ford, PawSox, Progressive Democrats of Rhode Island, Randall Rose, Republican Party, Rhode Island Sierra Club, RI Taxpayers, ri tea party, Roland Gauvin, Steven Frias | 6 Responses