Browse:
Home
/
school to prison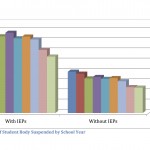 By Hillary Davis on June 5, 2015
Students with disabilities across Rhode Island are suspended from school at rates more than twice as high, on average, as their representation in the student body, an ACLU of Rhode Island report has found. These disproportionate suspension rates, like those that impact racial minorities, begin in the earliest grades, and are often for low-risk behavioral issues that […]
Posted in Civil Rights, Education, Featured, News, Rhode Island, Youth | Tagged ACLU, Civil Rights / Liberties, disability, Education, Rhode Island, school to prison | Leave a response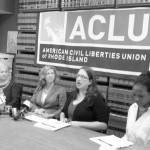 By Steve Ahlquist on May 5, 2015
Black students were suspended from school more than twice as often as would be expected based on their representation in the student body population. Hispanic students were suspended more than one-and-a-half times as often as expected, the highest rate in a decade, while white students experienced a ten-year low.
Posted in Civil Rights, Criminal Justice, Featured, Race & Racism, Rhode Island, Youth | Tagged American Friends Service Committee, Donald Anderson, Hillary Davis, Jordan Seaberry, Martha Yaeger, RI ACLU, RI Kids Count, school suspensions, school to prison, Univocal Legislative Minority Advisory Commission, Young Voices | Leave a response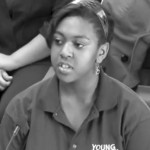 By Steve Ahlquist on March 16, 2015
"When kids see that their punishment does no correlate with their offense, they become angry, knowing that kids who do egregious acts are held to the same punishment. It is simply unfair. The fact is that schools are not following the law and are finding loopholes around it."
Posted in Civil Rights, Education, Featured, Race & Racism, State House, Video, Youth | Tagged grace diaz, Hilary Davis, John Lombardi, Joseph McNamara, RI ACLU, school to prison, Young Voices | Leave a response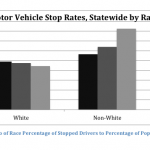 By Bob Plain on February 20, 2015
The Rhode Island ACLU chapter is calling on state leaders to "examine policies, practices and procedures that lead to discriminatory treatment of black Rhode Islanders" and issued a new report that the civil liberties activists say "offers a brief but systematic examination of racial disparities in Rhode Island, and how those interconnected disparities can lead […]
Posted in Civil Rights, Featured, Race & Racism, Rhode Island | Tagged alcu, race, racism, school to prison | 1 Response