Browse:
Home
/
senate finance committee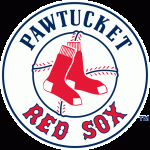 By William J Conley Jr on August 28, 2017
Put another way, it would be a net loss to Rhode Island should the team decide to relocate to another state, because we earn more revenue from the team than it would cost state taxpayers in subsidies.
Posted in Class Warfare, Corporate Greed, Featured, National News, Pawtucket, Rhode Island, State House | Tagged Apex, Capitol Television, Dominick Ruggerio, Donald Grebien, Donna Nesselbush, elizabeth crowley, General Assembly, James Doyle, PawSox, pawtucket red sox, senate finance committee, State House, william conley | 2 Responses
By Steve Ahlquist on January 8, 2017
Powerful business interests spend the day hammering out their legislative priority wishlist and present them directly to elected officials. One-stop shopping.
Posted in Business, Class Warfare, Corporate Greed, Economics, Energy, Events, Featured, Inequality, Infrastructure, Labor, News, Photos, Politics, Rhode Island, State House, Video | Tagged Bryant University, Bryant University Academic Innovation Center, Center for Women & Enterprise, Daniel DaPonte, Daniel MicKee, Deborah Ruggiero, Dominick Ruggerio, Evan Shanley, Gary Ezovski, Gina Raimondo, Grafton Willey, Jean-Phillippe Barros, John Gregory, john simmons, Joseph McNamara, Len Lardaro, Leonidas Raptakis, Mark Deion, Mary Ann Shallcross Smith, Miriam Ross, Neil Steinberg, Nellie Gorbea, Nicholas Mattiello, Oscar Mejias, Ralph Coppola, Rhode Island Foundation, Rhode Island Public Expenditures Council, Rhode Island Small Business Economic Summit, RIPEC, Robert Lancia, Sandra Cano, senate finance committee, seth magaziner, social safety net, Susan Rittscher, university of rhode island, US Small Business Administration | 4 Responses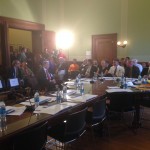 By Elisha Aldrich on June 19, 2015
A Senate version of Governor Raimondo's truck toll proposal, also known as Rhode Works, contains tax breaks for truckers. The new version of the bill, sponsored by Sen. Dominick Ruggerio (D- District 4), and heard by the Finance Committee Thursday, includes $13.5 million in tax credits and rebates for truckers. They would receive tax credits […]
Posted in Economics, Featured, Rhode Island, State House, Transportation | Tagged bridges, Elisha Aldrich, Gina Raimondo, Gina Raimondo, infrastructure, Jonathan Wormer, Peter Alviti, ridot, roads, senate finance committee, Taxes, tolls, truckers | 1 Response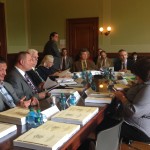 By Elisha Aldrich on June 18, 2015
Much like its House counterpart, the Senate Finance Committee passed the FY16 budget bill unanimously with almost no discussion other than to speak on its merits. "I would certainly characterize this budget as one that is not only ambitious, but one that makes a significant investment in areas that should have been invested in in […]
Posted in Economics, News, Politics, Rhode Island, State House | Tagged budget, Common Cause RI, Daniel DaPonte, Elisha Aldrich, john marion, Juan Pichardo, Nicholas Mattiello, Planned Parenthood, Raymond Gallison, RI Senate, senate finance committee | Leave a response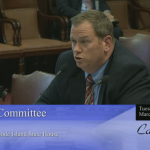 By Bob Plain on March 19, 2014
Rhode Island missed out on somewhere between $40 and $100 million in 2011 and 2012, according this new report. That's because in 2011, the General Assembly rejected Gov. Chafee's idea to implement what is known as "combined reporting" for corporate taxes and instead called for the aforementioned report. The study found that combined reporting would […]
Posted in State House, Taxes | Tagged combined reporting, Rhode Island, Rhode Island State House, senate finance committee, Taxes, Teresa Tanzi | 3 Responses