Browse:
Home
/
Stephen Archambault
By Will Weatherly on June 27, 2018
As the deadline to run for elected office came and went Wednesday afternoon, there are more than a few political newcomers—many young, and many centered around social justice—that could constitute the makings of a progressive wave in Rhode Island. Governor Most notable might be the governor's race, where Matt Brown promises to give incumbent Governor […]
Posted in Congress, Elections, Events, Featured, National News, News, Politics | Tagged Aaron Regunburg, Anthony Giarrusso, Anthony Kennedy, Bridget Valverde, Carlos Cedeno, Cassandra Michael, Chris Blazejewski, Dan McKee, Dana Gee, David Cicilline, Dawn Euer, Donna Nesselbush, edith ajello, Elections, Ewa Dzwierzynski, gayle goldin, Gina Raimondo, Harold Metts, Holly Taylor Coolman, James Langevin, Jason Knight, Jeanine Calkin, Jessica De la Cruz, John Carnevale, John Pacheco, Jonathan Hernandez, josh miller, Justice Ameer Gaines, Justine Caldwell, Kat Kerwin, Kenneth Marshall, Laufton Ascencao, Lauren Carson, lauren niedel, Marcia Ranglin-Vassell, Mark Gee, Mark McKenney, Matt Brown, Matthew Perry, Melanie DuPont, Michael Earnheart, Moira Jayne Walsh, Nellie Gorbea, Nick Autiello, Pat Cortellessa, Pat Fontes, Paul Fogarty, Paul Jabour, Paul Roselli, primaries, Ramon Perez, Rep. Mike Chippendale, Salvatore Caiozzo, Sam Bell, Scott Slater, seth magaziner, Shelby Maldonado, Sheldon Whitehouse, Stephen Archambault, Teresa Tanzi, William Hunt Jr. | 5 Responses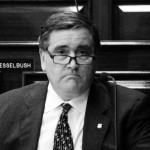 By Steve Ahlquist on June 16, 2016
In the end, of course, they voted the bill down. It was such an unusual circumstance that Chairman Michael McCaffrey couldn't quite get his head around how it was supposed to work.
Posted in Activism, Class Warfare, Corporate Greed, Energy, Featured, Health Care, Infrastructure, News, Photos, State House, Video | Tagged Burrillville Town Council, cale keable, Debbie Krieg, Dominick Ruggerio, Donna Nesselbush, EFSB, Energy Facilities Siting Board, frank lombardi, General Assembly, Gina Raimondo, Greater Providence Chamber of Commerce, House Committee on Environment and Natural Resources, Invenergy, Michael J. McCaffrey, Nick Katkevich, Northern Rhode Island Chamber of Commerce, Paul Fogarty, Providence Journal, Senate Judiciary Committee, Stephen Archambault, william conley | 2 Responses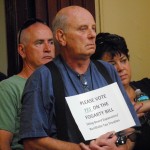 By Bob Plain on June 9, 2016
The Senate Judiciary Committee held for further study a bill that would give Burrillville residents a role in determining the tax rate a proposed power plant would pay to the town. The committee took six hours of testimony, before and after the full Senate session. About 50 people spoke, about two-thirds of who oppose the […]
Posted in Climate, Featured | Tagged burrillville, Donna Nesselbush, frank lombardi, Invenergy, Stephen Archambault | 4 Responses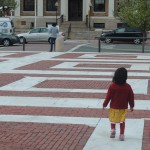 By Steve Ahlquist on April 28, 2016
The RICAGV (Rhode Island Coalition Against Gun Violence) held their second annual rally outside the State House, reaffirming their support for three critical pieces of legislation that would ban guns on school grounds, take guns away from domestic abusers and limit magazine capacity to ten rounds. The General Assembly has shown little appetite for these […]
Posted in Events, Featured, Gun Control, Health Care, News, Rhode Island, State House, Video | Tagged frank lombardi, Jerry Belair, Rhode Island Coalition Against Gun Violence, RICAGV, Stephen Archambault | 2 Responses