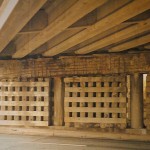 By Samuel Bell on February 9, 2016
Republican Reps Patricia Morgan and Dan Reilly have been making a major push to stop the truck tolls in the RhodeWorks proposal, yet have signed onto a bill that would drastically expand tolls in Rhode Island.
Posted in Featured, Infrastructure, Rhode Island, State House, Transportation | Tagged dan reilly, Jared Nunes, Pat Morgan, tolls | 4 Responses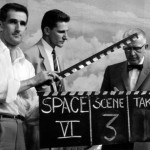 By Steve Ahlquist on January 28, 2016
With the addition of the new federal funding, the revised legislation cuts the amount of bonding in half (from $600 million to $300 million) and reduces interest costs by more than 65%. The legislation also strengthens the prohibition on tolling passenger vehicles by adding a condition that a vote of the people be required for any legislative changes to toll cars.
Posted in Featured, Rhode Island, State House, Taxes, Transportation | Tagged Gina Raimondo, M. Teresa Paiva-Weed, Nicholas A. Mattiello, tolls, Truck tolls | Leave a response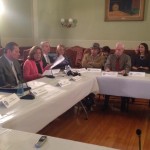 By Bob Plain on January 27, 2016
"There is great potential within the emerging green industries," Paiva Weed told Bob Plain in an extended interview one day after introducing a report that lays out her policy recommendations. "If we as a state position ourselves to maximize all available opportunities it will in fact move us forward and secure for us national recognition."
Posted in Featured, State House | Tagged charter schools, education funding, funding formula, GRow Green Jobs RI, Jamestown, Mt. Hope, Newport, paiva weed, tolls | Leave a response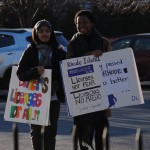 By Steve Ahlquist on January 5, 2016
As Speaker Nicholas Mattiello puttered about inside the House chambers, metaphorically polishing his gavel and preparing for the new legislative session, advocates for licenses were lead in chants by Juan Garcia and shouted the Speaker's name. Mattiello ignored the protesters.
Posted in Activism, Civil Rights / Liberties, Class Warfare, Events, Featured, Labor, News, Photos, Providence, Race & Racism, Rhode Island, State House, Video, Women, Youth | Tagged English for Action, Fuerza Laboral / Power of Workers, Gina Raimondo, Juan Garcia, Licenses for All, Nicholas Mattiello, providence student union, RI Jobs with Justice, tolls | 2 Responses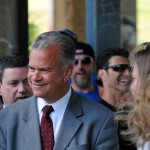 By Elisha Aldrich on June 25, 2015
The prospect of Governor Gina Raimondo's Rhode Works legislation hitting the House floor before the end of this legislation is highly unlikely, Speaker Nicholas Mattiello said today. "Right now, I'm not planning on it coming to the House floor by week's end," he said. "I have substantial concerns. I've indicated that the House is not […]
Posted in Featured, News, Politics, Rhode Island, State House, Transportation | Tagged bridge, Cranston, Elisha Aldrich, Gina Raimondo, Governor Gina M. Raimondo, House Speaker Nicholas Mattiello, infrastructure, investigation, Peter Alviti, Rhode Works, ridot, tolls | 1 Response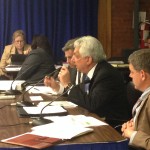 By Elisha Aldrich on June 23, 2015
The House Finance Committee took lengthy testimony from the Rhode Island Department of Transportation on Monday afternoon as the agency defended its Rhode Works program with renewed vigor. Representatives from RIDOT spoke for three hours, echoing many of sentiments they have previously made about the initiative, before answering many questions from representatives who remain unclear […]
Posted in Featured, State House, Transportation | Tagged bridges, highways, tolls, Transportation, truckers | 29 Responses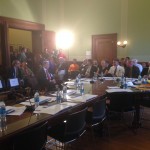 By Elisha Aldrich on June 19, 2015
A Senate version of Governor Raimondo's truck toll proposal, also known as Rhode Works, contains tax breaks for truckers. The new version of the bill, sponsored by Sen. Dominick Ruggerio (D- District 4), and heard by the Finance Committee Thursday, includes $13.5 million in tax credits and rebates for truckers. They would receive tax credits […]
Posted in Economic Development, Economy, Featured, Rhode Island, State House, Transportation | Tagged bridges, Christopher Maxwell, Ed Alfredi, Elisha Aldrich, Frank Nardone, Gina Raimondo, Governor Gina M. Raimondo, infrastructure, Jonathan Wormer, Peter Alviti, ridot, roads, senate finance committee, Taxes, tolls, truckers | 1 Response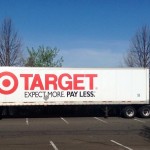 By transportprovidence on June 5, 2015
Speaker Nicolas Mattiello has indicated that he may not include tolls for trucks on Rhode Island highways. I'd like to summarize the debate and highlight some ways that Rhode Island can move forward with reasonable compromises on this issue. Singling out one industry The trucking industry has been remarkably successful with a talking point: they […]
Posted in Transportation | Tagged tolls, Transportation, trucking | Leave a response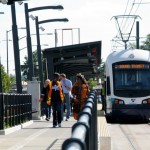 By transportprovidence on March 4, 2015
Over and over, I have had many frustrating conversations with people who don't understand how egalitarian policies and land-use/transportation fit together, to the point that I've been working on a piece to parse apart the details. Just as I was on my fourth or fifth draft, a perfect example of people having all the right […]
Posted in Featured, Transportation | Tagged policy, tolls, Transportation | 1 Response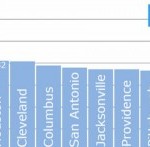 By transportprovidence on February 25, 2015
Tolls are the way to go, says Gov. Raimondo, and we need to have her back on that. As Gov. Raimondo recently pointed out, Rhode Island has some of the highest per-mile costs for road infrastructure. In addition to that, as I've pointed out right here at RI Future, much of that road infrastructure is highway oriented, […]
Posted in Featured, Transportation | Tagged highways, multimodal, raimondo, tolls, Transportation | 14 Responses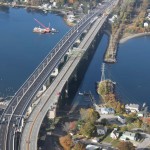 By Samuel Bell on March 18, 2014
There's a new plan out to replace the Sakonnet River Bridge Tolls.  For the next six years, discretionary spending will be slashed in every department by 0.25%, until the total cut is 1.5%.  Funneled into a transportation infrastructure trust fund, those dollars will hopefully eliminate the need for tolls on the Sakonnet River Bridge. If […]
Posted in Featured, State House, Transportation | Tagged Rhode Island, sakonnet river bridge, sequester, state house, tolls | 7 Responses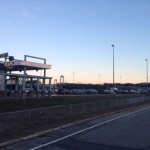 By transportprovidence on January 14, 2014
Several times in the course of Twitter conversations, C. Andrew Morse of Anchor Rising has challenged my claim that user fees (for example, tolls) are a conservative method of paying for a road. I challenged him to back that statement up. Morse states his case this way: 1. Conservatives in general believe that public good […]
Posted in Transportation | Tagged newport bridge, Rhode Island, sakonnet bridge, tolls, user fees | 8 Responses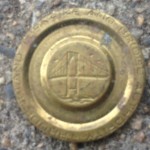 By Bob Plain on August 19, 2013
When I was a cub reporter I subsidized my habit of writing for the Jamestown Press by working as an arborist on Aquidneck Island. To do so, I had to pay a lot of tolls going over the Newport Bridge. And not the ten cent kind like those crossing over the brand new Sakonnet River […]
Posted in Featured, Politics | Tagged katz, matt allen, sakonnet river bridge, Tea Party, tolls, wpro | 1 Response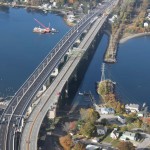 By Samuel Bell on July 4, 2013
It's not often that I disagree with Bob Plain, but I think he underestimates the importance of the battle over the Sakonnet River Bridge tolls. There are three important things going on here: First, as progressives, we should oppose tolls as a matter of principle.  Because everybody pays the same rate no matter how much […]
Posted in Featured, Taxes | Tagged sakonnet river bridge, tolls, user fees | 21 Responses