By Steve Ahlquist on July 15, 2017
"The GOP has made only cosmetic changes to their Trumpcare bill that do nothing to alter the bill's fundamental problems. Make no mistake: this bill and the bill already passed by the House will have a devastating impact on people's lives."
Posted in Activism, Civil Rights, Class Warfare, Corporate Greed, Disability Services, Events, Featured, Health Care, Inequality, Labor, National News, News, Photos, Poverty, Providence, Rhode Island, Social Services, State House, Video, Women, Youth | Tagged Affordable Care Act, ARC of Blackstone Valley, Boston Center for Independent Living, Burnside Park, Cheryl Frasier, Colleen Flanagan, Donald Anderson, Foster Forward, gop, Indivisible Rhode Island, Jim Cowan, Joharlen Carvajal, Jordan Hevenor, Kamila Barzykowski, Karen Malcolm, Marjory Waters, Mass ADAPT, Medicare for All, Michael Pence, Monica Scott, National Governor Association, National Governors Association, NGA, Protect Our Healthcare Coalition, republican, Rhode Island Convention Center, Rhode Island Organizing Project, SEIU-RI Council, Service Employees International Union, single payer, The Women's Project, TrumpCare, Women and Infants Hospital | Leave a response
By Steve Ahlquist on June 29, 2017
"Healthcare is not essentially a political issue. It is a moral issue. Let's name it for what it is. The legislation before the Senate right now is evil and sinful," said the Reverend Donald Anderson.
Posted in Activism, Civil Rights, Class Warfare, Congress, Corporate Greed, Featured, Health Care, National News, News, Photos, Reproductive Rights, Rhode Island, State House, Women | Tagged aca, Affordable Care Act, AHCA, American Congress of Obstetricians and Gynecologists, American Health Care Act, BCRA, Better Care Reconciliation Act, Charles Feldman, Christine Brousseau, Donald Anderson, Joshua Miller, Karen Malcolm, Medicaid, obamacare, Planned Parenthood, Protect Our Healthcare Coalition, Rhode Island Council of Churches, Rhode Island Market Stability and Consumer Protection Act, Rhode Island State House, TrumpCare | Leave a response
By Steve Ahlquist on June 24, 2017
Standing with fellow Rhode Island Senator Sheldon Whitehouse, Jack Reed said that passing TrumpCare would be "a disaster for Rhode Island and the United States."
Posted in Class Warfare, Economics, Featured, Health Care, Inequality, National News, News, Rhode Island, Video | Tagged jack reed, Medicaid, Medicare, obamacare, Sheldon Whitehouse, TrumpCare | 2 Responses
By Capri Catanzaro on June 17, 2017
All said, it is a great budget for the wealthy and the politically connected corporate interests. It is a bad budget for the middle class, the poor, and supporters of economic growth.
Posted in Featured, State House | Tagged 2018 Budget, 38 Studios, car tax, ccri, commerce corporation, Gina Raimondo, John Lombardi, Medicaid, Nicholas Mattiello, Rhode Island Promise, RIPTA, TrumpCare, UHIP | 4 Responses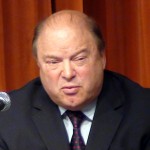 By Bob Plain on June 12, 2017
Bob Flanders, the former state Supreme Court justice who is mulling running for Sheldon Whitehouse's Senate seat, said he expects President Donald Trump's so-called Muslim travel ban will prevail at the United States Supreme Court. "Whether you believe it is overly broad or too religiously focused, I would be surprised if they upheld the circuit […]
Posted in Congress, Featured, Politics | Tagged bob flanders, east greenwich, Muslim Ban, Nadolillo, obamacare, senate, Sheldon Whitehouse, TrumpCare | 2 Responses
By J. Mark Ryan on May 20, 2017
Can you hear the sound of our health care system collapsing? It is not just the threat of TrumpCare, which throws 24 million Americans off health insurance while cutting taxes for the wealthy
Posted in Class Warfare, Corporate Greed, Featured, Health Care, Inequality | Tagged aca, Affordable Care Act, Blue Cross & Blue Shield of Rhode Island, Canada, Mass General Hospital, Medicare Advantage, Medicare for All, obamacare, Raul Labrador, single payer, Toronto General, TrumpCare | Leave a response
By Steve Ahlquist on May 9, 2017
"Today," said organizer Nancy Rafi, "as legislators return to their home offices, they need to hear what we think about the House voting to legalize discrimination, and making us all pre-existing conditions."
Posted in Activism, Featured, Health Care, National News, Photos, Video | Tagged aca, Affordable Care Act, AHCA, American Health Care Act, donald trump, jack reed, Medicare for All system, Nancy Rafi, obamacare, Planned Parenthood, Rhode Island State House, Sheldon Whitehouse, single payer, TrumpCare, Women's March on Washington Rhode Island Chapter | 2 Responses
By Steve Ahlquist on March 23, 2017
TrumpCare, said Raimondo, exists only to "give tax breaks to their rich."
Posted in Civil Rights, Class Warfare, Corporate Greed, Featured, Health Care, Inequality, People, Photos, Rhode Island, State House, Video, Women | Tagged aca, Affordable Care Act, Ellie Brown, Gina Raimondo, healthsource ri, John Jacobson, Medicaid Expansion, Nicole Alexander-Scott, obamacare, Rhode Island Department of Health, RIDOH, TrumpCare | 3 Responses