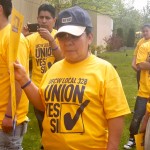 By Steve Ahlquist on May 19, 2016
Workers at Eastland Food Products Inc voted overwhelmingly to unionize with UFCW Local 328. The vote Thursday was 74-37 in favor of the union.
Posted in Activism, Civil Rights, Class Warfare, Corporate Greed, Featured, Labor, News | Tagged david bennett, Eastland Food Products Inc, UFCW, ufcw 328, wage theft | Leave a response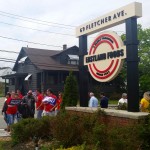 By Steve Ahlquist on May 13, 2016
There are employees at Eastland who have worked there for twenty years, and they're still making minimum wage. Workers claim to have never been paid time and a half to work on Sundays. There are allegations of sexual harassment, wage theft, and 60 to 80 hour work weeks. No one working there has ever had a vacation or paid sick days.
Posted in Activism, Class Warfare, Corporate Greed, Events, Featured, Labor, News, Photos, Rhode Island | Tagged david bennett, Eastland Food Products Inc, UFCW, ufcw 328, wage theft | 3 Responses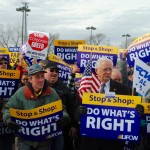 By Steve Ahlquist on April 7, 2016
As negotiations between Stop and Shop workers and the company owners drag on, members of United Food and Commercial Workers (UFCW) 328 rallied in the parking lot of the Branch Avenue location to send a strong message to management
Posted in Activism, Featured, Labor | Tagged ufcw 328 | Leave a response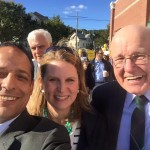 By Bob Plain on October 17, 2015
Employees of Price Rite, a regional grocery store chain, took to the streets in front of the Providence store on Friday to, in their words, "Change Price Rite for the Better." That was the name given to the protest held outside the Valley Street grocery store on Friday that brought national AFL-CIO Secretary Elizabeth Shuler […]
Posted in Featured, Labor | Tagged AFL-CIO, jobs with justice, ufcw 328 | Leave a response