Browse:
Home
/
Zero: 2016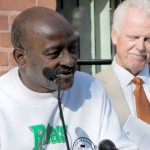 By Steve Ahlquist on November 9, 2015
The best speaker at the ceremony was Larry Crudup, a homeless veteran who served ten years in the Army and ten additional years in the Army Reserves. who finally has a safe and private home to sleep in. "When I first saw the room," says Crudup, "I fell in love with it."
Posted in Featured, Homelessness, Video | Tagged David Cicilline, Gina Raimondo, jack reed, James Langevin, ri coalition for the homeless, RICH, Sheldon Whitehouse, Zero: 2016 | Leave a response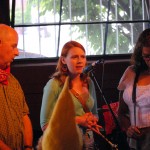 By Steve Ahlquist on June 1, 2015
The Gnomes, a global folk-fusion band, opened the event with about a half an hour of live music before being joined on stage by emcee Bill Harley. Harley gave a short talk about Richard Walton, and read one of his emails to give a flavor of the man, quoting Walton as saying, "I'd like life to be a hot hodge-podge of people of all sorts. All ages, all cultures, all colors, all everything."
Posted in Activism, Events, Featured, Homelessness, Labor, Rhode Island, Video | Tagged eric hirsch, Extraordinary Rendition Band, Institute for the Study & Practice of Nonviolence, Mirjaam Parada, providence college, Providence Renaissance Hotel, Red Bandana Awards, richard walton, Sister Ann, The Procaccianti Group, Zero: 2016 | 3 Responses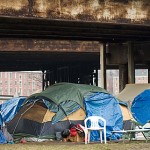 By Steve Ahlquist on November 12, 2014
Those of us who are not homeless might work hard and do all the right things, but when it comes time to account for our fortune the number one determinant is luck.
Posted in Featured, Homelessness | Tagged Homelessness, Slavery, Zero: 2016 | 2 Responses

By Rhode Island Coalition for the Homeless on November 11, 2014
Affordable housing and homeless advocates boldly claim Rhode Island will be the first state in the country to end veteran and chronic homelessness as they proudly announce their selection to participate in the national Zero: 2016 Campaign; which sets to the goal to end veteran and chronic homelessness in the next two years in selected […]
Posted in Featured, Homelessness | Tagged Homelessness, opening doors rhode island, Zero: 2016 | 1 Response