I'm a 67 year-old physics professor at the University of Rhode Island. I have a wife, four kids, five grandchildren and sixth on the way. I would claim to be a respectable citizen, and yet, earlier this week Senator Sheldon Whitehouse had me arrested for caring about the global climate.
About ten friends from the multi-state NOPE (No Pipeline Expansion) Coalition and I set up a sit-in at Senator Sheldon Whitehouse's downtown Providence office that ended with my arrest by a Providence police officer when the senator's staff was about to close the office.
I understand that Senator Whitehouse is well-regarded as a climate champion and a realist who understands the constraints imposed by political reality. Senator Whitehouse might understand politics, but I know something about physics. The problem is that the Earth's climate does not obey the rules of that reality; it evolves according to the laws of nature.
Knowing that the lives of many millions are being put at risk, and that the impact would be distributed according to the same old rules of colonialism, racism, and patriarchy, I refused to leave the Senator's office. All of us were there to make it clear that with his image of climate champion, he had become a wolf in sheep's clothing.
After attending the PUC hearing about National Grid's proposed 23.3% rate hike, RI members of the NOPE Coalition started out on our mission to occupy Senator Sheldon Whitehouse's office in downtown Providence. The action was coordinated with a similar action at his DC office.  On our way, we picked up a couple friends from Burrillville. We made our way into the Providence office, and announced the purpose of our visit.  We also made it known that some of us were willing to risk arrest to accomplish our goal, namely to convince the senator to do the right thing: to withdraw his support for fracked gas as a substitute for coal and oil.
That plan is being sold as a step in process of kicking the nation's fossil fuel addiction, but in reality it will simply continue business as usual at best.  As usual, the profits will going to Wall Street both as the shale bubble is being inflated and once again as it will pop.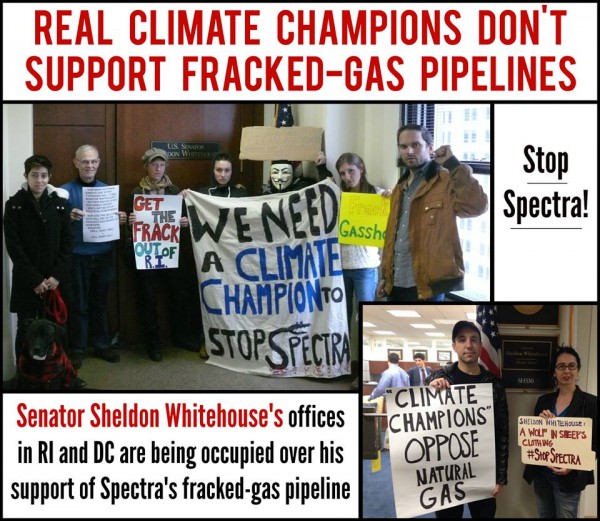 We came equipped with sleeping bags and settled in comfortably for the duration.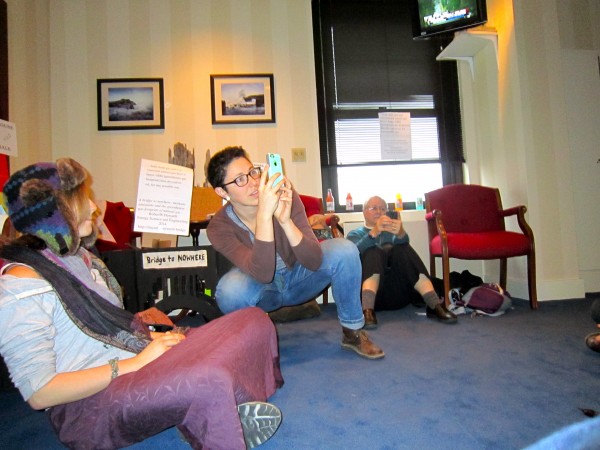 We peacefully took over the space and started filling it up with our signs.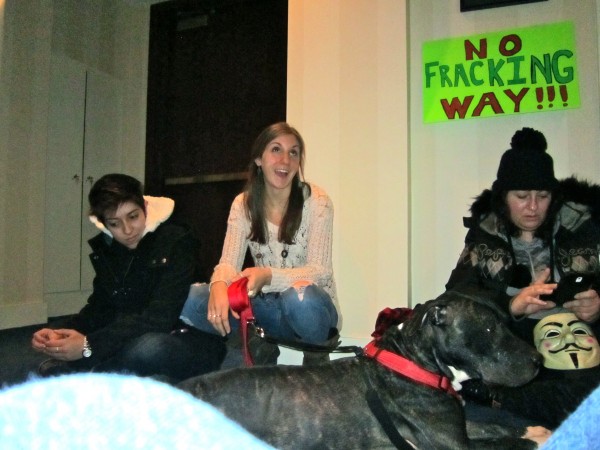 Our message was a follow-up of another NOPE action: on the previous day, police arrested two of our friends of Capitalism vs. the Climate, who had chained themselves to a mock "bridge to nowhere" and blocked the driveway to Spectra Energy's methane gas compressor station in Cromwell, CT.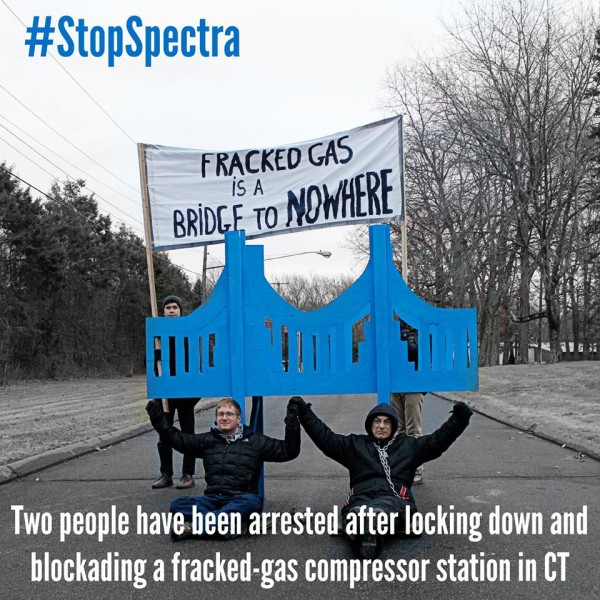 This is our bridge to nowhere: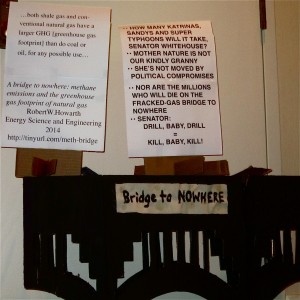 The sign on the right reads:
HOW MANY KATRINAS, SANDYS AND SUPER TYPHOONS WILL IT TAKE, SENATOR WHITEHOUSE?
MOTHER NATURE IS NOT OUR KINDLY GRANNY
SHE'S NOT MOVED BY POLITICAL COMPROMISES
NOR ARE THE MILLIONS WHO WILL DIE ON THE FRACKED-GAS BRIDGE TO NOWHERE
SENATOR:

DRILL, BABY, DRILL
=
KILL, BABY, KILL!
On the left is a sign that identifies the problem with the President's Climate Action Plan, which features natural gas a the bridge fuel between us and a green future:
…both shale gas and conventional natural gas have a larger GHG [greenhouse gas footprint] than do coal or oil, for any possible use…
A bridge to nowhere: methane emissions and the greenhouse gas footprint of natural gas
RobertW.Howarth
Energy Science and Engineering 2014
http://tinyurl.com/meth-bridge
Of course, we made sure that we identified the central problem with what we still call a democracy for lack of a better word.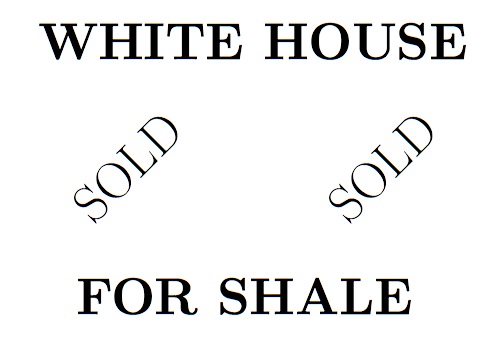 You might wonder how all of this ended.  Well, it has not ended.  I have a court date for January 8 and we'll see how that goes, but I was back out on the streets of Providence and on my way home within an hour after arrest.  One member of our group had picked up my car and was waiting outside.  I was released without ever having seen the inside of a cell.
In fact, I may have made some friends among the Providence police.  We had a pleasant conversation during the ride to the station, as I sat with with my hands shackled behind my back.  (One of the unknown advantages of yoga is that this pose is quite comfortable compared to the more extreme positions I tend to favor.)  The officer who drove us to the station told me that he respected me for standing up for my convictions.  He asked me if I wanted to be processed quickly so I would be out within an hour.  Who'd say no to that?  I heard the other officer, the one who wrote up the incident report, say to one of his colleagues that I was the nicest protester he had ever arrested.  That really made my day as I thought of the motto of the People's Climate Movement: "To change everything we need everybody."  And, yes, that includes not only the police, but also Senator Whitehouse, his staff, and all of those whom we hope to welcome in our midst once they will have freed themselves of the chains of predator capitalism.   Please help us to make that happen, but remember that time is running out: we are in Decade Zero of the climate crisis.
Taking on a climate champ: getting arrested at Sheldon Whitehouse's office

,