Erik Loomis is a Rhode Island treasure.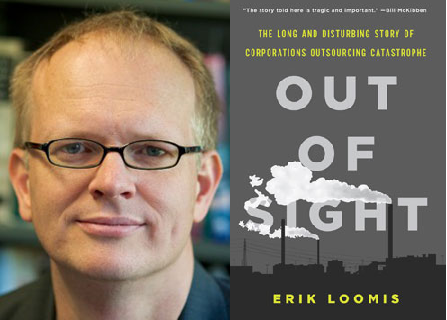 This much is clear from his Twitter feed, his prodigious blogging, and – based on excerpts in truthout and In These Times – his latest book, Out of Sight: Long and Disturbing Story of Corporations Outsourcing Catastrophe.
If you aren't familiar with Erik – Rhody's own fire-spitting, NRA-fighting, grave-visiting, environmental/labor history guru – you'll want to head down to AS220 on Wednesday night (November 18) at 5:30 p.m. to hear about how "our systems of industrial production today are just as dirty and abusive as they were during the depths of the industrial revolution and the Gilded Age, but…hidden in faraway places where workers are most vulnerable" (a quote from the book's promo copy).
In advance of the event, I spoke with him about a variety of topics via email. (And, no, RI Future's previous three interviews – here, here, and here – had not answered all of my questions.)
SCALE OF 1 TO 10, HOW UPSETTING IS THIS BOOK TO READ?
Hmmm….depends on how much you already know about these things. I'm going to guess a 9 for most people.
We mostly have some sense of the problems with the economy–we don't have steady work, we don't make enough money, we know the 1% is gaining more control over us. In Rhode Island, we know the jobs have disappeared and that long-term unemployment and urban decline is a big issue. So that's expected. What people might find more upsetting is the horrors corporations create in the rest of the world in order that they can profit.
At times the book is pretty rough–child labor, pollution, workplace deaths, oil companies having protesters murdered, and climate change are some of the topics I talk about. And I think that readers will be pretty angry at finding out why corporations have moved the jobs abroad and all the different ways it affects our society today. So many of our problems stem, at least in part, to corporations being able to move jobs around the globe. It leads to the decline of unions, which takes working voices out of politics and creates a vacuum filled by wealthy plutocrats like the Koch Brothers. It turns workers and environmentalists against one another when in fact they share a common corporate enemy. It makes it harder to fight climate change. It kills workers overseas while making it harder to fight for a dignified life at home. But I also try to point at concrete ways forward where we can fight to make positive change.
So you should be pretty mad after reading this book. But you should also feel empowered to create changes instead of hopeless despair.
WHAT WAS ONE "HOLY SHIT!" DISCOVERY YOU MADE WHILE RESEARCHING THE BOOK?
I've been writing about this stuff for years so I wasn't too shocked about most of it. But I think one thing that is surprising to me and will be surprising for most people is how many times the government has made attempts to regulate production and working conditions that can be useful for us in trying to fix these problems of global labor exploitation and corporate domination over our lives.
We are told that the free market is a force like gravity that can't be stopped. But that's absurd. It's a series of choices made by people and shaped by governments. Government can allow corporations to exploit workers or it can help stop that exploitation. In many cases, including as early as the 1915 Seaman's Act, which allowed exploited sailors on foreign ships to leave their jobs when they landed in the U.S. if the conditions on the ships were bad, the government has gotten involved, both at home and with foreign workers, to create something that looks more like a race to the top than a race to the bottom. We can get the government to take these steps again.
YOU'RE A GUY WHO'S BEEN INVOLVED IN SOME INTERESTING CAMPUS-FREE-SPEECH CONVERSATIONS. CARE TO WEIGH IN ON WHAT'S BEEN GOING ON AT YALE AND MIZZOU IN THE LAST WEEK OR SO?
I don't have particularly strong opinions on the worrying so many people are engaging in about whether the protesters are right or are not respecting free speech. I find these conversations uninteresting and those who complain about these things tend not to support protest generally. Sure, the students may be strident. But protesting students are always strident! That's what they are supposed to do! Reasoned, civil discourse is for older people. We need both. The reality is that there is a lot of racism throughout the nation. That includes on college campuses. That should be fought. Yale does not need buildings named about John C. Calhoun, architect of secession. And the president of Missouri was horrible and tolerated racist actions on campus. He needed to go.
WHAT'S THE GREATEST ALBUM EVER RELEASED?
It's funny you ask that. I listen to music almost constantly, except when I'm reading. I cannot live without it. Some people can't write to music. I can. So what is the best album? I don't know, that's so hard and depends on the minute. Jazz, classic country, rock and roll, soul, so many genres. Here's a list of 10 great albums. We'll say 5 are "classic" albums, before 2000. And 5 are from the last 15 years:
"Classic"
Marvin Gaye, What's Going On

Miles Davis, In a Silent Way

The Who, Who's Next

Millie Jackson, Caught Up

Ray Price, Night Life
"Recent"
Drive-By Truckers, Decoration Day

Wussy, Strawberry

Frank Ocean, Channel Orange

James McMurtry, Live in Aught-Three

PJ Harvey, Stories from the City, Stories from the Sea
YOU'RE A NON-NATIVE RHODE ISLANDER. IT'S ALWAYS INTERESTING TO HEAR HOW THIS STATE APPEARS TO, SAY, A WEST-COASTER. WHAT HAVE YOU NOTICED ABOUT THIS PLACE?
I grew up in Oregon. That's pretty different than Rhode Island. There are some great things about the state–the seafood. Autumn leaves. Summers on the water. The proximity to New York and Boston. Cool old buildings.
There are some weird things about Rhode Island too. The crazy level of corruption in Rhode Island politics. The accents. That no one has been west of Pennsylvania. That Providence sets its water on fire while we Oregonians, um, don't. And then there's the winter. What's the deal with the winter? How do people survive this every year? I think last winter traumatized me permanently. Not to mention the potholes and tire damage it all causes.
Finally, and I don't want to alienate any readers, but the beer scene in Rhode Island is atrocious. First of all, a great pint of beer in Oregon runs you $5, tops. You can still find $3 happy hours for some of the best beers in the nation. The beer scene has improved here in my 5 years and I'm thankful for that, but we need more brewers, we need better brewers, and we need to find ways to sell this beer for less than $7 a pint. Rant over.
THE WORD "DISTURBING" IS RIGHT THERE IN THE SUB-TITLE OF THE BOOK. WHAT ACTIVITIES, IF ANYTHING, DO YOU HAVE FOR MAKING YOURSELF UN-DISTURBED? DO YOU EVER JUST TRY TO ENJOY THE DAY, LIKE NOAM CHOMSKY?
I laugh a lot at the world. I go outside a lot and enjoy the beauty of the country. I watch Oregon football, which usually makes me feel good if less so this year. You can't let the bad parts of the world own your life if you can help it. There's a lot of beauty in the world. Remembering that is important.