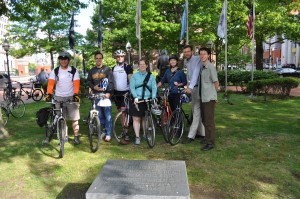 As part of Bike to Work Week, Providence Mayor Angel Taveras pedaled from his home in the Mount Pleasant neighborhood to City Hall this morning. More importantly, he announced that he's creating a Bicycle and Pedestrian Advisory Commission for the Capital City.
"Cities that make a commitment to walkable and bikeable living are healthier cities, with a more dynamic and engaged quality of life," Taveras said. "The Bicycle and Pedestrian Advisory Commission will move Providence forward in our efforts to make biking and walking more regular modes of transportation for more of our neighbors."
The five-member Commission, who will be appointed by the mayor, will study:
Changes in laws concerning bicycles and pedestrians
Coordinate cooperation on bicycle and pedestrian matters
Advise the public and the City on matters affecting the relationship between bicycle and pedestrian transportation and parks, schools, transit stops, and other major facilities
Incorporate bicycle and pedestrian planning in the City's Sustainability Action Plan.
The Department of Planning and Development will provide administrative support to the Commission.