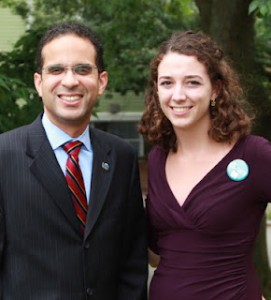 Two of the most hotly contested campaigns for seats in the State House seem to have picked up the one of the hottest endorsements around. An email from Providence Mayor Angel Taveras says he is supporting both Libby Kimzey, running for a seat in the House, and Gayle Goldin, running for a seat in the Senate.
Here's the email from Taveras:
Over the last 20 months I've had the privilege of working in partnership with like-minded, proactive elected leaders from across the state. Collaborative work has enabled us to weather many storms and emerge stronger as a result. One thing is clear to me: I could not have accomplished any of this without the help of others.

I am convinced that it is essential to the success of our City and State that we are represented by elected leaders who value collaboration. That is why I am pledging my support to Gayle Goldin and Libby Kimzey – two legislative candidates who are committed to the same proactive, collaborative approach to governing.

Will you join me in supporting Gayle and Libby before the September 11th Democratic Primary?

Gayle and Libby are smart, determined and compassionate candidates who have a common sense approach to governing. They will be great advocates for our City at the State House.  I would ask that you consider supporting their candidacies.

I know that with your support, we can continue to move our great city and state forward.  As Margaret Mead famously stated, "Never doubt that a small group of thoughtful, committed citizens can change the world. Indeed, it is the only thing that ever has."

Sincerely Yours,
Angel
Kimzey is running against incumbent Michael Tarro and John Lombardi. Lombardi is a former Providence City Councilman, making the endorsement particularly stinging. Goldin is running against charter school advocate and otherwise political liberal Maryellen Butke.
Mayor Taveras Endorses Libby Kimzey, Gayle Goldin

,