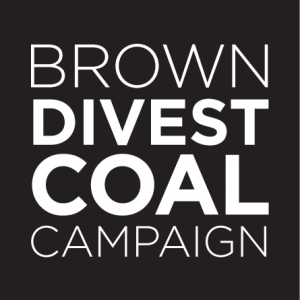 One of the reasons Brown University has such a a huge endowment is it invests in some pretty shady areas of the economy, one of which is the resource extraction sector. But a teach-in at Brown today hopes to call attention to why this isn't such a good investment for the Ivy League institution.
Here's the press release from Brown Divest Coal, a group that is calling on new President Christina Paxson to stop investing Brown's money in the "Filthy Fifteen," businesses Brown invests in that are bad for the planet:
Three Brown professors and a coal activist from West Virginia will highlight the environmental, social, and political impacts of the Coal industry at a teach in on Thursday organized by the Brown Divest Coal Campaign. The Brown Divest Coal Campaign is a new campus effort with the support of over 1400 students calling on president Christina Paxson to divest the University's endowment holdings from the 'Filthy Fifteen' – the ten dirtiest US utilities and the five least responsible coal mining companies.

WHAT: In order to educate students and the community about the new campaign, three professors will discuss different aspects of the coal industry, including professor Dawn King, who will speak about coal's global reach and professor Tim Herbert speaking about coal and its links to climate change. Dustin Steele, an anti-mountaintop removal activist from West Virginia, will speak about the impact of the coal industry on his community.

WHO: Professors Dawn King, Tim Herbert, and Stephanie Malin; coal activist Dustin Steele.

WHEN: Thursday, October 25th at 7:00 PM – 8:15 PM.

WHERE: List Art Room 120 (Access Via 64 College St) Google Map
VISUALS: Speakers will appear on stage with presentations. At the end of the presentations, campaign members will gather on stage with a banner to answer questions about the campaign and engage with the audience.