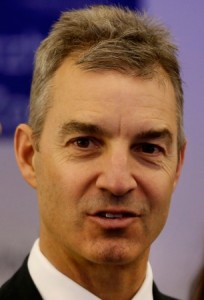 As Rhode Island considers whether Gina Raimondo is making a wise gamble with our money by moving more of public sector retirees' pension account into risky hedge funds, the New York Times Dealbook blog reports that the S&P 500 stock index outperformed the average hedge fund for the fourth year in a row.
Swashbuckling bets and robust returns are exactly what investors are hoping for — and paying for in outsize fees — when they allocate money to hedge funds. But far too often in recent years, investors have paid hefty fees for lackluster returns.

And last year was no different.

For the fourth consecutive year, most hedge funds failed to beat the market. The average hedge fund gained 6.4 percent last year, according to a composite index that tracks 2,200 portfolios compiled by Hedge Fund Research.

By comparison, the Standard & Poor's 500-stock index climbed 16 percent when factoring in dividends. In 2011, the average hedge fund lost more than 5 percent, versus a 2 percent gain for the S.& P. 500.
The Dealbook post also listed the 10 highest paid hedge fund managers, according to Institutional Investor Alpha's annual "Rich List. At least two of whom Rhode Island invests a considerable sum of our pensioners retirement security with:
Loeb was featured in Rolling Stone magazine on April 11 about his crusade to take over more pension plans, and his lack of affinity for defined benefit pension plans.
Dan Loeb, who isn't known as the biggest hedge-fund asshole still working on Wall Street (only because Stevie Cohen hasn't been arrested yet), is on the board and co-founder of a group called Students First New York. And Students First has been one of the leading advocates pushing for states to abandon defined benefit plans – packages which guarantee certain retirement benefits for public workers like teachers – in favor of defined contribution plans, where the benefits are not guaranteed.

In other words, Loeb has been soliciting the retirement money of public workers, then turning right around and lobbying for those same workers to lose their benefits. He's essentially asking workers to pay for their own disenfranchisement (with Loeb getting his two-and-twenty cut, or whatever obscene percentage of their retirement monies he will charge as a fee). If that isn't the very definition of balls, I don't know what is.
There's an interesting connection here between hedge fund managers, public teacher pensions and the so-called ed. reform movement; StudentsFirst was founded by Michelle Rhee and she is also on the board with Loeb and other hedge fund managers.
But there's another interesting local connection too: David Boies, the high-price super lawyer who is defending Raimondo and her pension plan at a great discount is also on the StudentsFirst board with Loeb and Rhee.
According to a Ted Nesi post from November, Boies agreed to defend in court the pension cuts to state workers and teachers for $50 an hour when he usually charges $960.
Pensions, hedge fund managers, David Boies

,