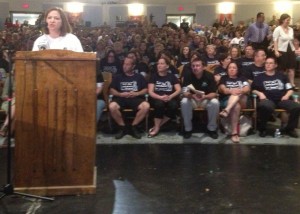 Public school teachers plan to protest outside a Board of Education meeting tonight where Education Commissioner Deborah Gist's future employment will be debated and perhaps decided.
"If the board votes to renew the contract, we want to make it clear tonight isn't the end of a campaign," said Pat Crowley. "Tonight is the beginning of the campaign."
The action was announced in an email today from the NEARI, the larger of the two teachers' unions in Rhode Island. Both are vehemently opposed to Gist's contract being renewed.  Here's the email:
Rhode Island educators will gather at CCRI, Warwick, prior to the Board of Education meeting Thursday, June 7, to express concern once again over the continuation of Deborah Gist as commissioner of education. Frank Flynn, president of RI Federation of Teachers and Health Professionals, and Valarie Lawson, president of East Providence Education Association, will speak at 5:00 pm.
At a debate-changing teacher rally recently in Cranston, Brian Chidester, a French teacher in Warren/Bristol, said, "if you want mass civil disobedience from your teachers, go ahead and renew Gist's contract."