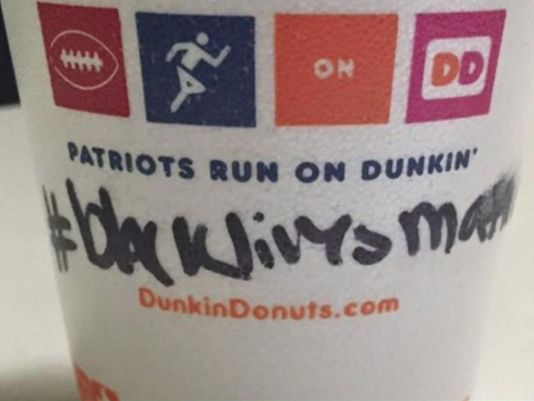 The recent dust up between the Providence police union and a teenage Dunkin Donuts employee who wrote #blacklivesmatter on a cop's coffee cup is perhaps the best way the always highly-charged nexus between racial equality and police conduct could have been raised.
Too many communities only debate this very critical issue after a white cop kills a black civilian. To that end, and maybe to that end only, it is to Rhode Island's credit that we are having this debate prior to violence.
But Rhode Island needs our leaders to step up and moderate this moment. Mayor Jorge Elorza, Public Safety Commissioner Steve Pare, Governor Gina Raimondo – as well as Jim Vincent of the NAACP and Taft Manzotti of the Fraternal Order of Police – must seize this opportunity. This is either a teachable moment or it will breed more animosity between young, urban people of color and the police officers who are supposed to serve and protect them.
In the meantime, the cops plan a protest at the coffee shop on Saturday morning with signs that will say "Police Lives Do Matter" and progressive activists plan to patronize the Dunkin Donuts on Indigenous Peoples Day (aka Columbus Day, Monday).
While the whole thing seems silly on its face (some within the police department say it was mostly driven by an upcoming union election, though current union president Manzotti, who isn't running for reelection, dismissed that theory) this incident has brought much valuable information to light. Providence police officers, it seems, resent the Black Lives Matter movement. We can reasonably assume the Black Lives Matter movement similarly resents the Providence police, and that it probably resents them at least a little bit more now, we need to bring these two communities together. This all matters.
None of this resentment is in anyone's interest. It needs to be addressed before it festers into something worse. Rhode Island can't have members of the police community calling for people to be fired. Law enforcement should never be politicized in this way. And to have white police officers publicly indicating they would fire a teenager of color for writing #blacklivesmatter is to sow the seeds of racial strife.
Tempest on a coffee cup: either a teachable moment or erosion of trust

,