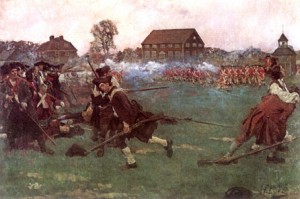 The bombs in Boston blew up while we were celebrating the shot heard 'round the world. An act of terrorism marred the annual marking of the world's most famous response to asymmetrical warfare in history. There's more than irony here, there's a lesson to be learned.
For those who don't know, the Boston Marathon is held each year on Patriots' Day, a state holiday in Massachusetts set on the closest Monday to April 19, the day in 1775 when the British army first attacked the colonial militia.
Colonists got wind of the redcoat's plan to attack and arrest some of the key radicals who had been fomenting a revolt. Paul Revere set out on his midnight ride, roughly the same route as the Boston Marathon, to roust up enough locals to take up arms against their government.
On the morning of April 19, the outmatched minutemen first clashed with the British army in Lexington, Mass. Realizing they were outmatched, the colonists dispersed shortly after what Ralph Waldo Emerson later dubbed the shot heard 'round the world. Not realizing they were enmeshed in an asymmetrical war, the redcoats began marching towards Concord and we ambushed them on their way.
Almost everything about how a rag-tag band of s0-called Patriots were able to upset the most powerful empire on the planet is a testament to how to foment and fight an asymmetrical war – including the events that led up to the Battle of Lexington and Concord. The Sons of Liberty, an anonymous band of rebels, goaded England into attacking through a series of clandestine direct actions like the Boston Tea Party and the burning of the Gaspee.
Someone put a few bombs in downtown Boston yesterday for the same reason colonial early Rhode Islanders burned the Gaspee: with the hope that it would be the response that is heard 'round the world.
Terror as we celebrate asymmetrical warfare

,