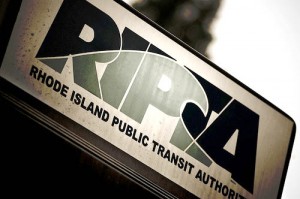 Last night I listened to nearly three hours of testimony against RIPTA cuts. Listening for so long about something I care so much about was hard. By the time my turn came I'd drafted three different pieces of testimony. Since going through all of them would just have been rude to the dozens still sitting patiently, I said one piece and I'll share all three points here. Thanks for listening.
I am a huge fan of RIPTA. Someone said RIPTA should sell merchandise to earn a couple extra bucks. I am one of the people who would buy that shirt because I am grateful that I don't need to bleed hundreds of dollars a month to own and maintain a car. I am grateful that when my bike gets stolen I can still get to work on time. I'm glad I don't even know the bus schedule because I can walk a block and expect one to show within 15 minutes. Even better – saving those hundred some dollars a month, I go to restaurants and bars during the week. Bringing home $850 a month, I have disposable income! That's amazing! You know who wasn't at those hearings? The good men and women who own those fine establishments. They were probably still at work. If they saw me here, they'd be pissed too, because this whole song and dance is costing them business.
There's no money for RIPTA. That's funny, because four years ago they told me there was no money to clean up our democracy, three years ago they said we'd keep giving away tens of millions to the wealthiest of the state, two years ago they didn't have the money to provide to the families of homicide victims for burials, this year there wasn't enough money to provide a place to sleep that wasn't a sidewalk curb, or to keep poor parents and kids on health insurance. But they've found the money to keep the tax loopholes in place for AmGem, Raytheon and CVS, and they've found the money to cut the income tax for the wealthiest of us in half. Who's calling the shots, and on whose behalf are they calling them?
I'd like to tell the story of two of the people sitting for hours in that hearing, Representative Maria Cimini, and Representative Chris Blazejewski. They saw the same charade at the State House for the 28 cuts to RIPTA service that preceded this one. They wrote their legislators, they called, they showed up. And then that wasn't enough anymore. People tonight have asked you to heckle, but that's not enough. Sometimes you've got to hustle. Maria and Chris hustled for a year and now they've got seats in the State House. They've done a good job this year too, I've been watching very closely. But they need a few more players on their team. Advocating for the working poor on Smith Hill can get lonely. If your representative decides to listen to AmGen before he listens to you, it's time to hustle. If your representative doesn't return your phone calls, it's time to hustle. If Rhode Island is your state, it's time to own it.
So thank you for showing up, thank you for staying. Thank you for speaking and for giving me an opportunity to speak.