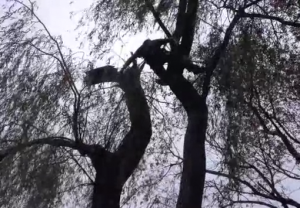 Remember that fire fighter who climbed up a telephone pole to work on a damaged transformer at the height of Hurricane Sandy's winds on Monday afternoon? Or what about the local public works employee who spent more than 14 hours laying sandbags, digging trenches and helping out residents? Or the cop who risked his life to save someone else?
Those are the people who Rhode Islanders think enjoy too much retirement security. In other words, many of the people who will be most hurt by pension reform and the same exact people who save our asses when natural disasters strike.
One public works employee I saw during the storm did dangerous labor all Monday and well into Tuesday morning for the town he serves; he lives in a neighboring town because, despite growing up there, he could never afford real estate there on a public sector salary. Years ago, he left a better paying job at Electric Boat for the pension benefits he was promised by the town. We'll see how that goes.
I didn't get any footage of that guy (mostly because he literally may have crushed my iPhone in his bare hand had I tried!!) but I did get some video of the tree crew I worked with yesterday clearing this pretty big snagged limb that was still hanging in the tree when we got there Tuesday afternoon: