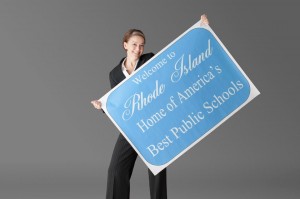 A $2.3 million federal grant will create 14 new pre-Kindergarten classes serving 250 children in urban areas of Rhode Island, said Elliot Krieger a spokesman for the state Department of Education.
The grant, Krieger explained, will seed the creation of more than 40 new public pre-K classrooms by 2020, serving more than 1,000 students in Providence, Central Falls, Woonsocket, Pawtucket, West Warwick, East Providence, Newport and Cranston. There are currently only 17 public pre-K classrooms in Rhode Island.
"As an educator with a background in early-childhood education, I know it is essential that all children, regardless of the economic status of their family or their community, have opportunities to enroll in high-quality early-learning programs," said state Education Commissioner Deborah Gist. "This federal grant will accelerate our progress in opening more state-funded prekindergarten programs across the state, and we will also continue increasing high-quality early-learning opportunities through our many important on-going initiatives, including our Quality Improvement Grants for early-learning programs and efforts to expand access to full-day kindergarten."
Rhode Island supports 17 pre-K classes in 8 cities. The federal Preschool Expansion Grant, if fully funded for $19 million over four years, will create 36 new pre-K classrooms. State education aid will fund seven additional classrooms, according to the grant application and Krieger.
Elizabeth Burke-Bryant, of KidsCountRI and co-chair of the Early Learning Council, helped the state Department of Education, write the grant application. She said, "This exciting grant award means that more of Rhode Island's young children will benefit from high-quality preschool that will improve school readiness and help to close achievement gaps that appear well before kindergarten entry."
Governor-elect Gina Raimondo said early childhood learning a priority.
"Rhode Island has made progress in recent years in improving access to preschool programs, and, as governor, I will continue to be an advocate for high-quality early childhood education for our youngest learners," she said in a press release from the Department of Education. "I look forward to working with local school districts and community partners on the successful implementation of this grant to improve the school readiness and educational outcomes of our kids."
House Speaker Nick Mattiello said investing in early childhood education is an investment in Rhode Island's economy.
"This Preschool Expansion Grant will enable many more Rhode Island students to have access to high-quality early learning," Mattiello said. "I am confident that this grant, along with the early-learning investments we have made as a state, will help us ensure the academic success of more Rhode Island schoolchildren, improve the lives of Rhode Island families, and bolster the economy of our state in future years."
Thanks to federal grant, RI to add more preK classrooms

,