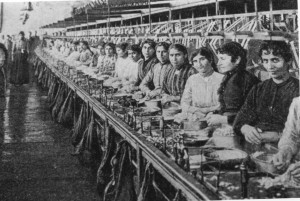 Anyone who works in corporate America is familiar (all too familiar) with the way corporations 'increase productivity.'  The standard method over the past 20 years has been to fire (and that is the proper word: fire) a whole bunch of workers at the bottom end, and make the survivors do the work that those fired workers have done.
In sum, the motto is "do more with less."  Or, "here's a butter knife. Go clear the forest."
If you have to work 50 0r 60–or more–to get your stuff done, well, you're part of the team. You have to pull your weight.  Complain?  Hey, you're lucky to have a job.
And everything in those sentences has been uttered in a corporate office.  I've either heard them myself, or have it from very reliable sources.
I have worked both as factory labor and in corporate management. I've seen it from both sides.  And let me tell you: in  a large corporation, there are people who wake up every day thinking, "how can I screw (the workers) even more?"
Time was, corporations didn't act like this. They were much smarter then. In the last 30 years, they've gotten progressively more either a) stupid; b) greedy; or c) both.
How so stupid?
Look, in 1926 (no typo: 1926) Henry-Freakin'-Ford gave an interview propounding virtues of the 40-hour, 5-day week. He figured out that it was the best thing for business.
And this is Henry-Freakin'-Ford–yes, that Henry Ford, admirer of Herr Hitler and loather of communists (both historical facts. Look it up. I'm through spoon-feeding history. Prove me wrong, I dare you.)
"…The harder we crowd business for time, the more efficient it becomes.  The more well-paid leisure workmen get, the greater become their wants. These wants soon become needs. Well-managed business pays high wages and sells at low prices. Its workmen have the leisure to enjoy life and the wherewithal with which to finance that enjoyment…" (Interview, 1926. Henry Ford: Why I Favor Five Days' Work With Six Days' Pay)
That is Henry-Freakin'-Ford.
So tell me, why does it make sense to work people like robots? Or like wage slaves?
Answer, it doesn't.  This view of H-F-F became so entrenched, that it was simply not questioned for a good 50 years.  Or, until about the time St. Ronnie became president and decided it was time to bust unions–the former union president himself. Seems unions were OK when they protected him, but not so good once he became management.  Nothing worse than someone who forgets where they came from.
So, yes, corporations have gotten stupid. And lazy. Don't work smarter, just work more. Except study after study after study has shown that, after about three weeks of working 50 hours, you're not getting any more done than you were in 40.  So you burn yourself out for no gain.
H-F-FL: …"It is not necessary to bring in sentiment at all in this whole question of leisure for workers. Sentiment has no place in industry. In the olden days those who thought that leisure was harmful usually had an interest in the products of industry…"
IOW, H-F-F was calling out lies currently being spewed that the lower class (that would be the 99%) has become morally degenerate, and needs to be put in workhouses again.  It was a lie in the 1800s, Henry Ford realized it was a lie in the 1900s, and it remains a lie in the 2000s.
And, BTW: cutting a bunch of workers gooses the profitability of a corp for a few quarters. IOW, long enough to make sure the guys doing the cutting get their fat multi-comma bonus.  IOW, they have "an interest in the products of industry."
We face 10% unemployment in this country. Hire some people. Cut the hours of those "lucky enough to have a job."  More people will have money to spend. They will have the leisure to spend it.
That's how you stimulate the economy.
The 40 Hour Week vs. Corporate Stupidity

,