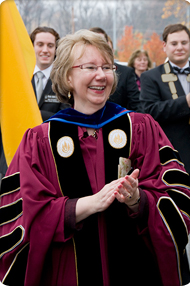 News broke on Friday that "[a] group of current and former Rhode Island College employees is asking the state Council on Postsecondary Education to replace college President Nancy Carriuolo, who they accuse of destabilizing the institution." Yet those who have a rudimentary understanding of how the internal dynamics of Rhode Island College work grasp very well that this is a cunning, mean-spirited, and ultimately transparent ploy by a group of disgruntled former administrators who are trying to derail the work Dr. Carriuolo has done since taking office.
I feel I have several qualifications that allow me to speak here, I am the treasurer of the Rhode Island College Class of 2009, a former editor of the Rhode Island College Anchor Newspaper, and a former member of 90.7 WXIN Rhode Island College Radio, media platforms that covered the selection of Dr. Carriuolo. Since graduation, I have been keeping lightly abreast of events at my alma mater and have had several very pleasant interactions with the campus Dr. Carriuolo has modernized and the president herself, who has been absolutely wondrous. I also understand that Mark Motte, Peg Brown, and Jane Fusco are being quite disingenuous in their complaints, framing a basic procedural element of the transition between former College President Dr. John Nazarian and Dr. Carriuolo as some sort of totalitarian putsch.
Without getting into the personality-based mire that is quite ugly when discussing the length of Dr. Nazarian's tenure, the fact is that the man was in office for eighteen years, 20 if you add the two years he served as interim president following the death of Dr. David Sweet, and had a total of five decades of involvement as a student, faculty member, and administrator when he left the campus. In that time, he created a culture based around his managerial and fiscal philosophy that made the college what it was from 1990 to 2008. When Dr. Carriuolo, a long-time member of the Rhode Island College community, took over, she brought with her a wholly different set of ideas and philosophies that have fundamentally redirected the trajectory of the college. I am not able to judge at this juncture what the long-term outcomes are because of the length of time she has been in office. But that change in leadership dictated Dr. Carriuolo also change the administrators and staff around her to affect her wishes for the college. The individuals lodging this complaint were part of the Nazarian nomenklatura who simply became far too comfortable in their roles. If the West Wing staff at the White House were to kick up such a fuss when a new president was inaugurated, people would laugh at such behavior.
I personally think that the things Dr. Carriuolo has spearheaded has been fantastic. Let me begin with the film department that I graduated from. Several years ago, I was invited back to campus to screen a film. When I entered the hall that I had taken multiple courses over my four years of matriculation, the large screening room in the Horace-Mann building, I thought I was at the wrong campus. When I used to watch films in that room, the sound was awful, the screen was problematic, and the tables with connected rotating chairs were, putting it politely, not the seating arrangement that works best for film students. Now the room has theatrical-styled seats with desktop side-bars, the sound is equivalent to the Showcase Cinema, and the screen is a marked improvement.
The department has been given the funding to expand and balance the curriculum in a way so that students get a fair dose of both film literacy and practical studio work, whereas when I was a student funding was so short one would be lucky to get four practical classes. If one did so, it was often the case they would take a few through the Communications Department, which has an orientation and logic sometimes completely opposed to the Film Department. Another time, I had a class on documentary film through the Anthropology Department where the professor included in the first class a condescending and mocking digression on those pesky 'filmies' that talked about all those weird notions that he had no use for. I respect and understand that, Film Studies and Anthropology are two different fields, but nonetheless it obviates a case where the Film Department was being given pittances rather than being allowed to flourish. Dr. Carriuolo has reversed that trend.
There are other places that Dr. Carriuolo has improved matters greatly. She has allowed Drs. Richard and Carolyn Fluehr-Lobban to install bee hives at the college as part of a project that has multiple applications for various departments and curriculums as well as the Sustainability Program and garnering praise from environmental groups. She has expanded the Non-Western Worlds curriculum in ways that are directly benefitting the greater community. For example, even though he was descended from West Asian parentage that spoke the language, Dr. Nazarian was unwilling to allow for Arabic language classes, something the new President has allowed for. In a period of time when our international affairs continue to interact with Arabic-language states, one does not have to be John Dewey to understand why one might like the ability to take low-cost Arabic language instruction courses.
The President's Illuminated Walkway, installed to commemorate her selection, is a wonderful project that creates a safe pathway students can take to get across campus at night. When one in four female college students experiences some form of sexual violence during studies, this project becomes obviously a massive treasure for the community that will help decrease a terrible trend for years to come. Her streamlining and implementation of policies that guarantee students do not get lost in the shuffle of classes and end up wasting time and money over multiple years with no advancement, including things like the elimination of the undeclared major and greater emphasis on mandatory academic advising, is creating high-quality and better-educated students.
One of the projects that could very well be a major element of her lasting legacy is the collaboration with the University of Rhode Island in a nursing center at the South Street Landing. Despite the claims of Michael Smith, who has called it "a house of cards built on a foundation of ego, profit, and a profound lack of understanding of public policy", this is actually a brilliant idea on multiple fronts. First, it helps better solidify the inter-institutional collaboration between the University and the College while simultaneously maintaining fealty to the unique character of each institute. The College has a fantastic nursing program while the University has a great pharmacy school, ergo creating an environment where both faculties can come together in one facility to collaborate without dragging both institutions through the disaster of merging them into a utopian Ocean State University is a very smart idea. Second, the presence of a major educational complex run but not one but two public universities is a powerful and long-lasting thrust back against the ethnically cleansing gentrification project in Providence that is fostered in no small part by Brown and Johnson and Wales Universities. This building will bring into the city working class and first generation students that do not have the scholarships, trust funds, and bad attitudes of the private school students. It seems obvious that Mr. Smith has misspoken about ego in this instance.
One cannot offer purely celebratory verbiage without critique and I will not do so. For example, I think it was unnecessary and inappropriate to even allow for a community dialogue about arming the campus police several years ago. I am not in love with the fact that the renovated arts building is named for the Alex and Ani jewelry company. Adjunct professors still are given low wages and can get caught in the academic quagmire caused by a lack of tenure-track positions in various departments. Yet on the same token, the individuals lodging this complaint are not active in ameliorating these issues, they are part of a leadership generation that helped create these problems. For example, when the gun debate was held during the Nazarian era, these voices were not in rousing opposition. If these are valid complaints, which they very well could be, these issues have been hijacked and utilized by individuals who have very little room to speak.
This issue is far more than just a personality conflict between a few disgruntled employees and a president. At the core of this move is a fundamental difference in philosophy regarding the role of the state in higher education. One school of thought would hope to see public education wither and die so to make a space for more privatized education and more difficulty for low-income and minority students. The other would like to reinvigorate the public education sector and create a culture in Rhode Island where everyone has the opportunity to learn and think critically. The former school also has a tendency to personally profit from cuts to education, putting themselves ahead of the students. It seems abundantly clear that faculty, staff, students, and alumni should stand in solidarity with Dr. Carriuolo here so to protect the integrity and sustainability of the Rhode Island College project.