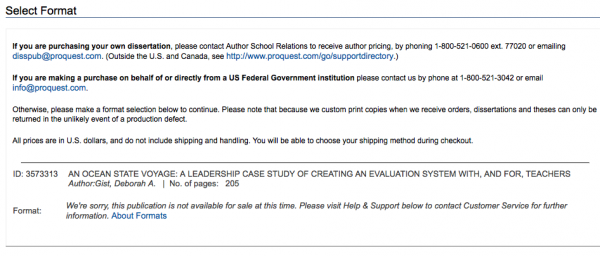 Even though her publishing company says she is free to share his U Penn dissertation on teacher evaluations in Rhode Island, Commissioner of Education Deborah Gist, who based her research on her work here, said she won't lift the embargo on her research.
"I have already spent more time on this than I have or care to spend," Gist told me in an email today. "Figuring out how and when the embargo will be lifted and then making changes to the paperwork that I submitted to the university and ProQuest two years ago is a distraction from the work of improving educational opportunities for children in Rhode Island, which is what matters to me. My dissertation will be public when it is made public by those who currently hold the embargo."
ProQuest, the publishing company used by the University of Pennsylvania to publish dissertations, said Gist can release the embargo, or her own version, if she likes.
"If she wanted to lift it," said ProQuest customer service representative Sara Schreiber, "we would gladly do that."
Schreiber added, "It's her work. We are just the publishing company. We don't own it or have any copyright to it."
Teachers and union leaders have renewed a call for Gist to release her dissertation – "An Ocean State Voyage: A Leadership Case Study of Creating an Evaluation System with, and for, Teachers" – which she based on her working relationship with teachers implementing performance evaluations.
Those evaluations were pared back legislatively this year and friction about the issue became public when this website published a heated email exchange between Gist and North Kingstown state Senator James Sheehan, a high school teacher, who has persistently called for her to release the dissertation.
"You are mistaken in your understanding of the process," Gist said to Sheehan in one of the emails. "I apologize for any confusion, but to be very clear I did not implement nor can I end the embargo. That action was taken by ProQuest, the organization that manages dissertations for the University of Pennsylvania. Contrary to what you stated, it is not 'self imposed.'"
Later in the exchange, Sheehan said, "I am weary of the run-around and verbal obfuscations. Unfortunately, this request is generally representative of your leadership in my experience. I wish you well. But, I look forward to new leadership with the incoming governor."
ProQuest said the dissertation would be published on September 9, 2015, unless Gist requests the embargo be extended.
Gist completed her doctorate in education in August of 2012, and requested a two year embargo, according to ProQuest. But they did not receive her dissertation until September 2013, according to Schreiber. Since June of 2013, Wendy Holmes, a URI professor emeritus in Art History and education activist, has been trying to read Gist's research. In November 2013, she authored this post.
Tu-Quyen Nguyen, a graduate student registrar at U Penn, wrote in a June 21013 email in June to Holmes that Gist's dissertation made it to the publisher a year late. He wrote:
Unfortunately, Deborah's dissertation was mailed in a box that was never received by ProQuest. I discovered this in January 2013 when another student inquired about their dissertation publishing. I have notified the affected students and am working with ProQuest to have the missing dissertation re-submitted to ProQuest ASAP.

In order to resubmit the dissertations to ProQuest, affected students need to complete the publication agreement form again so that I can resubmit everything to ProQuest. I had initially notified Deborah in January 2013 by sending an email to her school email (the only email address we have on file for her), which, I found out yesterday from her program that she no longer uses. The program coordinator, Martha Williams, is now working with Deborah to submit the required publication agreement forms so that we can resubmit everything.

The reason why her dissertation is not available at the Penn VanPelt Library is because that copy is currently on my desk waiting for microfilm from ProQuest.
She also wrote: "Dr. Deborah Gist's dissertation was successfully submitted to ProQuest on June 20th 2013," two months prior to when ProQuest said they received it.
Nick Okrent, a librarian at the Van Pelt library at U Penn said in a separate June, 2013 email to Holmes that dissertation embargoes are "fairly common."
"Many dissertations at Penn are currently under embargo," he wrote in the email. "Some people are worried that making their dissertation public will hurt their chances of using their dissertation as a first book. Others are worried about patentable discoveries or privacy issues. One can speculate about the reasons for requesting an embargo, but the only way to ascertain the real reason is to ask the author of the dissertation."
In November, 2013, Gist told RI Future she requested the embargo because she was having "hard time writing" about the incidents relating to her work between 2009 and 2011. An academic adviser suggested a public embargo might alleviate immediate ramifications of her research.
"And indeed it did help me write about my work,"
she said
.