Our own Frymaster made a good point in the comments of Ted Nesi's blog:
…it's unlikely that RI – like Nevada which shares our fate – will recover back to those levels [of pre-recession economic indicators] because they were essentially bubble driven.
Let's take a look at the housing bubble again.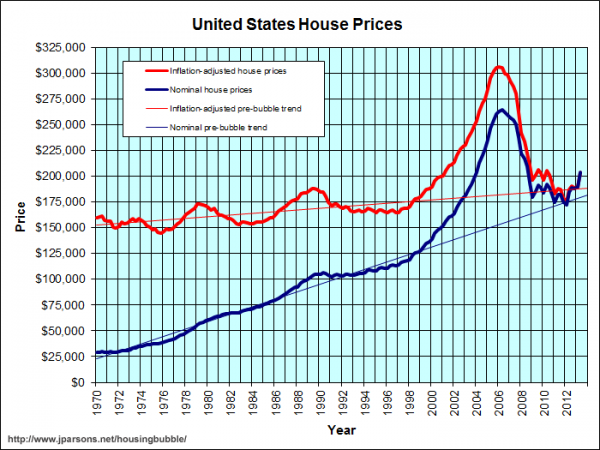 (via http://www.jparsons.net/housingbubble/)
So that massive bubble from 2001 to 2006 should be the major thing that everyone thinks about when we consider the Great Recession. Houses were tremendously overvalued, and when they crashed, the mortgages didn't disappear. For a lot of homeowners, it'd be really great if we could return to the bubble, because then they'd no longer be underwater.
Of course, if we made it back there, we'd suffer another crash that would be disastrous for the the state. It'd be really bad to return to the boom-bust cycle that existed in this country prior to the creation of the Federal Reserve system. And given the shakiness of housing prices, it's possible we'll go through another crash in the near future.
The question Rhode Islanders need to ask our policymakers is this: how do we return to bubble-era economic conditions without the fundamental instability that created the bubble in the first place?
The desire to return to Bubblenomics, and why that's a bad idea

,