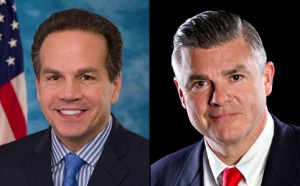 A couple weeks ago, I said that the media rewards personal attacks with coverage. Ted Nesi, of WPRI fame, responded with a quick tweet that there's an audience that rewards personal attacks. Essentially, the media picks up personal political attacks because it knows that those attacks bring in eyeballs, which means ad revenue. This is actually one of my favorite sort of chicken-or-the-egg conundrums; who's more responsible for where the media goes? The producer of media, or the consumer of media?
I'm going to shift away from politics to explain this, and that's where this gets not safe for work. Because I'm going to talk about porn. So if you don't like veiled references to pornography and pornographic acts, I suggest you don't read this.
Also, a second disclaimer, I'm a feminist, so that's how I approach this. I'm a male feminist, so I'm complicated, but at the end of the day, I believe men and women should be equal, and that makes me a feminist.
Alright, so, porn. Porn is a smorgasbord of depravity. In fact, statistically, a whopping proportion of people reading this blog probably know what porn's like. Two out of every five Internet users in the United States; 125 million people, visit a porn site every month. A third of those people are women. And yet, porn is overwhelmingly misogynist. Why? Well, that's up for debate.
See, the reason that porn producers use to justify why they shoot rough scenes is that that's what people buy. But the consumer retaliation is that the producers are the ones making this stuff to the exclusion of other products. I'd argue that added to all this is the versatility of the American consumer to self-date with the aid of a wide variety of what's available. But that versatility doesn't aid one side or the other in their arguments.
So what are we to assume? That the vast majority of American males who consume porn are into some depraved stuff (in which case, congratulations ladies); or that there is a highly profitable industry that isn't exactly meeting the wants of its consumers (though it should be noted those profits are shrinking)?
What I believe we have is what I like to call a media-audience feedback loop. Essentially, at some point, the ball got rolling, and now the audience and the media point their fingers at one another trying to decide who's responsible for this state of affairs. It effects every aspect of media; from the focus on negative, fear-based news to the "reality" shows in prime time.
That said, I'm going to lay the blame for not getting out of the loop on media's doorstep. It's a lot harder for consumers to stop consuming than it is for producers to stop producing. People consume media like addicts. Looking at this through that paradigm, you read RI Future because we give you a different high than, say, the Providence Journal. But before RI Future came along, you lived and got by, getting your fix somewhere else. Before Twitter existed, people read like, a thousand, five thousand, maybe even a hundred thousand character-long posts or articles. We did alright.
We'd be just as well off if media shifted its focus off horse race journalism (which shifted from taking up 45% of news coverage to taking up over 80% of news coverage in 30 years). When we're focused on policy and leadership, we're less focused on the "well, how is candidate A going to clobber candidate B?" question. It also means that when we talk about political campaigns being a debate, they'll actually be debates when media covers them as such. Should we ultimately care how much Congressman David Cicilline has compared to Brendan Doherty? Not particularly, because unless I'm working for them, the hundreds of thousands of dollars they've raised won't make much impact on my day.
What will affect us, as Rhode Islanders, is their policies and their leadership. If you're a progressive, Mr. Cicilline without a doubt aligns more on your values than Mr. Doherty. In the Democratic primary, you know that Mr. Cicilline has a better style of leadership than Anthony Gemma. Mr. Gemma has been ungracious when taking defeats like that he suffered at the Democratic State Convention.
The same applies elsewhere. Think Senator Sheldon Whitehouse vs. Barry Hinckley or the CD-2 race. They haven't gotten much play because media isn't evaluating the candidates based on their policies. The horse race factor says that Mr. Whitehouse and Jim Langevin are shoe-ins. You might argue that media has dismissed the non-incumbents as having poor leadership and unpopular policies. But I think you'd be hard-pressed to find any media coverage that's really focused squarely on their policies alone. This being my first election cycle as a commentator, maybe the policy stuff happens around the debates and I'm just whining about the early coverage.
Anyhow, yes, there is a media-audience feedback loop. And both consumers and producers are responsible for it. But producers are responsible for letting us get off.