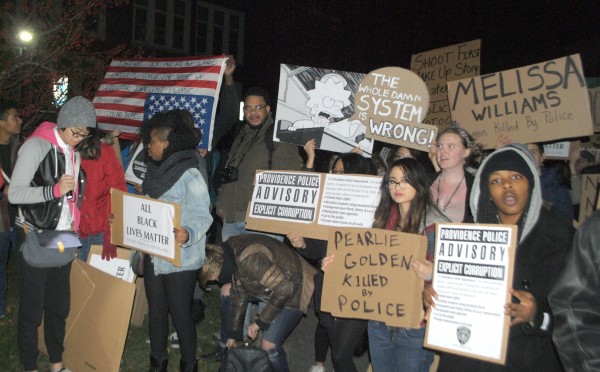 There's going to be a lot of discussion in the next few weeks about the protests in Providence held in the wake of the verdict of the grand jury in Ferguson, MS. There will be discussions about systemic racism, police profiling, protesting tactics, flag burning, highway blocking and the rising tide of a politicized youth movement with an agenda quite different from that of the previous generations.
But what of the voices of the protest? I can't claim to have any special insights. I can only present what ten of the 400 to 500 protesters said that night, before the protest started. Think of me working here as a megaphone, amplifying their voices.
This is what Democracy looks like.
"I'm tired of turning on the news and seeing people get shot down for something that is not right…"
"This is a lesson for all of us in our community: Stop killing our people!"
"I'm here because it's time for colonialism to end. It's time to have an honest dialog about the history of the United States of America, about how it's built on a system of injustice…"
"I'd just like to show respect to a few other names that are on the list of slain, young black men by police officers…"
"Young people, get into politics. Call your local officials. Let them know what troubles you. Then vote! Then, run for office…."
"That's  literal and metaphorical. We want to surround our youth with the protection they need to survive in this capitalist system…"
"The images the media is trying to portray of him [Michael Brown] is a total lie. I knew him. He was totally a gentle giant."
"We're all affected by this because we found out about it on social media. CNN's not telling us all of it. We're seeing it live, we're seeing it on Instagram, we're seeing it on Twitter…"
"We can change everything with this power that we have. We have new tools that they didn't have the last time we had to do this, in the sixties. We have grandparents who are alive now who are saying, that this looks the same, but it's in color…"
"I want to take this moment to talk about the statement 'Black Lives Matter.' When I heard this list of names being read out earlier, it was all black, cisgender men… It is crucial that we honor not just the black men who have been killed, but also the black women and girls…"
The Providence Ferguson protesters, in their own words

,