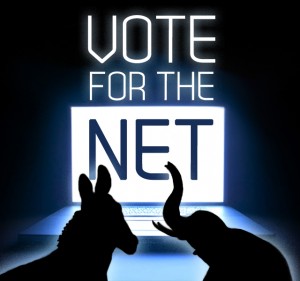 At Demand Progress we've just launched a public effort to compel the major parties to adopt Internet freedom planks as part of their party platforms.  You can click here to sign our petition to the people responsible for drafting platforms. It buttresses a behind-the-scenes effort we've been running for a few weeks, and we're very hopeful about the chances of winning.  Here's US News on the push:
In an attempt to woo so-called "Internet voters," both the Republican and Democratic parties are considering adopting official positions supporting a free and open Internet in their upcoming party platforms at their respective conventions, according to sources familiar with party platform drafting.
There's a race of sorts on to be the first party to corner Internet voters… and Internet dollars.  The Republicans are doing an unusually good job securing support from Silicon Valley, as US News notes:
Both Republicans and Democrats are in a race to capture the Internet's voting power, but if campaign donations are anything to go by, Republicans seem to have a slight lead. According to the Center for Responsive Politics, 54 percent of the $4 million that Silicon Valley-based PACs have donated have gone to Republican causes and candidates. Companies that have given more to GOP PACs include Intel, Microsoft and Facebook, while Google and Oracle have given more money to Democrats.
This represents a shift from the norm: Repubs were faster to peel off of SOPA and have been actively wooing tech support.  There's a strong libertarian streak among VCs and start-up entrepreneurs (too many of whom forget that the creation of the Internet was a publicly financed endeavor) that comports well with certain strains within the GOP.  The Dems are still better on Net Neutrality and privacy, but SOPA was a much bigger deal both to most web entrepreneurs and rank-and-file netizens — and the Dems stood by SOPA for far too long, likely largely because they were worried about losing Hollywood's support.  The Repubs didn't have that counterweight to consider, and were more able to make a more swift play for tech votes and bucks.
The Dems need to catch up, and fast.