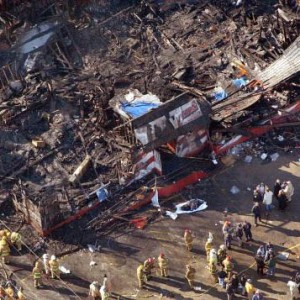 February 20th of this year marked the 9th anniversary of the Station Nightclub fire, the fourth, largest, nightclub fire in America's history.  Unfortunately, this date will also mark a milestone in the ongoing saga that has included the most egregious series of injustices, corruption and failure this state has ever known.
Over the 3,285 days since the fire, Rhode Island citizens have been witness to a unique and disturbing pasquinade, which has included a pseudo-proscecution by a stunningly incompetent Attorney General who showed during his entire tenure that he was less a court officer, and more a court jester.  His prosecutorial fiasco allowed at least one of those who should have been charged to not only avoid arrest and proscecution.  But to slink away to Florida to live happily ever after on a state funded disability pension.  In addition, our citizens witnessed illegal and immoral rulings and judicial misconduct by a Judge whose singular qualification for the bench was the only one required in Rhode Island -he had been a loyal and connected political hack.
Then we experienced the stunning insult of a politically weighted Rhode Island Parole board, who when challenged about denying victim's families the right to a hearing on the early release of one of only three people charged in this case, offered the specious excuse that the board was some how 'protecting' the families from additional trauma.  Shame on them.
But its not over yet.  One of the most shameful aspects of this tragedy is the questionable fate of the Station Fire Memorial site itself.  After being assured by the property owner's attorneys that this land would be donated to the victim's families in order to construct a living reminder of what happens when people choose profit over safety, the owner has now refused to make good on his promise.  This selfish and misguided decision has left the future of this cherished and esteemed site frozen in time.
Without the deed to this property, The Station Fire Memorial Foundation can no longer ethically or morally continue to raise funds or work to deliver on any of the promises previously made to victims and their families.  Without ownership Bob Weygand and the URI architects who have offered to redesign the site, cannot even take the first measurement.  Without the title in hand, Build RI and the hundreds of Union volunteers who have offered to transform that site cannot begin their work.  Without the rights to this property nothing can move forward.
The abysmal investigations are over.  The insulting jail sentences have been served.  The torturous Civil suits have finally been settled.  Now, we are left with only one question.  Will someone step forward to do the right thing or will this too end as just another heartbreaking disappointment?
Dave Kane
Father of the Youngest victim of the Station Nightclub Fire