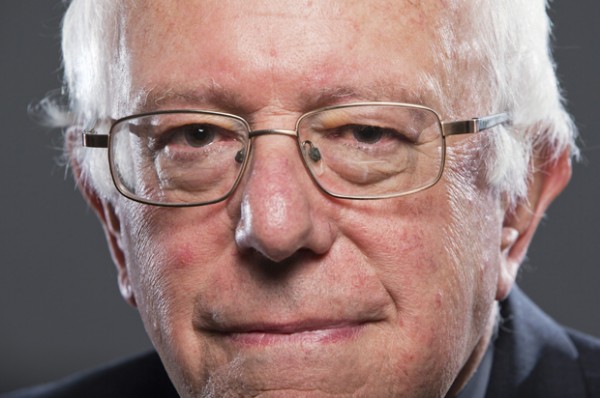 Come November, we're going to have a reckoning. Not just between two parties and their two unfavorable candidates, but a reckoning among a plurality of ideas on how to move forward as a nation. That includes the protest vote, the third party vote, the write-in vote. We're all going to make a vital choice, because the results of this election will directly affect the quality of our lives for decades to come.
And what is perhaps most interesting, and most dangerous about this vital choice is how emotionally loaded it is. Donald Trump has his fascistic populism. Hillary Clinton broke the glass ceiling. And Bernie Sanders took the DNC stage last week and was serenaded for three minutes before he could speak. People openly wept, as his words were cathartic to those who endured a fifteen-month grassroots campaign that awoke millions to the progressive cause.
But here's where the spiritual victory lies. No other candidate had supporters marching in the streets in celebration–political celebration!–of an honest and trustworthy presidential candidate who vowed to fight for the poor, the disenfranchised, the oppressed. A presidential candidate who eschewed corporate money in favor of my hard-earned twenty-seven bucks. A presidential candidate who rose from humble beginnings as the son of Holocaust survivors, to his college years of getting arrested for protesting segregation, to his ascendance as a senator and as a powerful force for progressives across the nation.
All of this indicated the ferocity of his fight, the will of his supporters, the moral soundness of his policy.
A presidential candidate who inspired me to get up, every day, for months to make contact with fellow Bernie supporters through the NGP VAN Votebuilder database, where I connected with thousands of potential volunteers across Southeastern New England and helped to get them canvassing and phone banking. A presidential candidate who I began to think of as a role model, not just for me, but for the children I might have. A presidential candidate whose speeches still leave my eager heart brimming with hope, and my headstrong will primed for a battle with the status quo.
Bernie "The Bern Man" Sanders, as one internet meme suggested for his deserved prizefighter moniker. Or, "Birdie" Sanders for the peace doves. The special moments poured in–the bird on the podium in Oregon, the guy yelling "fuck off!" to billionaires in Indiana–and none of them were scripted, each essential to the emotional core of the Sanders campaign, each a bright and unique facet of an enduring movement.
That movement has won the spiritual battle. And that presidential candidate, by virtue of the empathetic victory he created in the minds and hearts of millions of dedicated supporters, should have won the Democratic nomination. Senator Sanders was the most unanimously supported candidate at the convention; Clinton supporters had already said they would support him if he won, yet many Bernie supporters will not say the same of Clinton because of her issues with public trust.
We should be facing a true no-brainer choice: an honest and decent man fighting to restore democracy and to empower the disempowered versus a loud-mouthed hawkish bully who would trample the rights of anyone who crossed him.
Instead, we're going to have a reckoning between Clintonian business as usual and a potential form of Trumpist American hell. Neither of those candidates had supporters marching in the streets. Neither of those candidates broke fundraising records entirely by way of small, individual contributions. Neither of those candidates poll favorably, and neither of those candidates have the moral standing of Bernie Sanders.
So, we have a real battle ahead of us. The first step is to beat Trump, and the next is to keep Clinton accountable. But thanks to the spiritual fire of the Bernie revolution, I think we're up to the fight. No matter which way we decide to go–Democrat, independent, third party–we can thank Bernie for bringing us together in the first place. Because without him, I wouldn't be writing this article, and you wouldn't be reading it.
Instead, we're out in the public forum, having a debate about what to do next. It's messy. We disagree. But we find common ground. And we move forward. That's what democracy is, and it is my core belief that Senator Sanders has already brought us to a vital level of engagement with and awareness of the political process.
No other candidate has inspired such action. Let that be the victory you keep in your heart as we move forward.
The vital spiritual victory of Bernie Sanders

,