Fossil Free Rhode Island received a reply denying our request that URI divest from fossil fuels on March 14. Recent reports warn of stranded carbon assets and the looming popping of the carbon bubble. Even so, the URI Foundation continues to invest in wrecking the climate, and calls it "Building for the Future." Now, that requires really Big Thinking!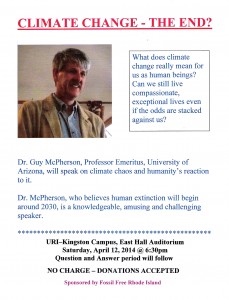 Meanwhile, Fossil Free RI continues the climate conversation with a visit from author, public speaker, and "latter-day gadfly," Guy McPherson, Professor Emeritus of the University of Arizona, who will speak on climate chaos and humanity's reaction to it:
What does climate change actually mean for us as human beings? Can we still live compassionate, exceptional lives even if the odds are stacked against us?
Guy McPherson, who thinks human extinction will begin around 2030, is a knowledgeable, amusing and challenging speaker. This is a chance to hear about instabilities too hard to capture in climate models, topics that many "grown-ups" consider "too scary for the kids."
McPherson's view is more dire than that of the majority of climate scientists, but his arguments deserve our serious attention. First of all, there is the One Percent Doctrine which states that
If there's a 1% chance […], we have to treat it as a certainty in terms of our response. It's not about our analysis […] It's about our response.
If this infamous doctrine provides cover for the 1% and its perpetual wars, should it not apply with a vengeance to climate change and the risk of ecocide it poses?
Guy McPherson's talk will provide the vital counterbalance to the politically motivated censorship imposed upon the IPCC report:
The poorest people in the world, who have had virtually nothing to do with causing global warming, will be high on the list of victims as climatic disruptions intensify, the report said. It cited a World Bank estimate that poor countries need as much as $100 billion a year to try to offset the effects of climate change; they are now getting, at best, a few billion dollars a year in such aid from rich countries.

The $100 billion figure, though included in the 2,500-page main report, was removed from a 48-page executive summary to be read by the world's top political leaders. It was among the most significant changes made as the summary underwent final review during an editing session of several days in Yokohama.
If you can make it, please join the Facebook event and invite your friends.
This event (no charge — donations accepted) is sponsored by Fossil Free Rhode Island: action for climate justice, urging public institutions that divestment from fossil fuels is the only moral choice.