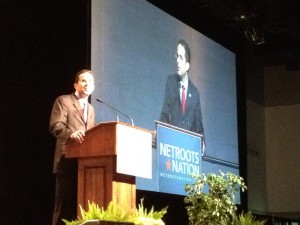 About 8:00 AM, I got my media credentials (thanks to Bob Plain) and I headed upstairs to the Convention Center Rotunda to hear Daily Show co-creator Lizz Winstead and friends discuss the news that day. Mainly it was focused on Scott Walker's victory in the recall election. And mainly, it was sort of the smarminess that happens when like-minded people congregate in one area and talk about things. The other side becomes "insane" or some other insult. On the other hand, what was I expecting?
At 9:00 AM, I went to Data Driven Design for Progressive Organizations: 10 Engagement Metrics You Probably Aren't Tracking. Hosted by Nikki Serapio, Manager of New Media for the organization Advocates for Youth, it was an unobjectionable training on what are some good metrics for organizing. As Mr. Serapio himself told us, the title is misleading in that anyone who tells you what the 10 most important metrics are for engagement on a website or via social media is deceiving you; either intentionally or unintentionally. While it wasn't the most inspiring training I've ever been to, it also was informative. Definitely something that will help me in both my professional life. I feel more valuable as an employee for having attended.
At Lunch (not an actual Netroots Nation thing) word came in about 38 Studios. While I'd been playing reporter over at the convention center, real journalists will be covering a marathon session at the State House. Plenty of advocates and lobbyists will watch as well as it drags on into the night.
The Rhode Island Caucus is an incredibly interesting event. You have people from all over; RI Future contributors, union members, political campaign members, Rhode Island Progressive Democrats of America. I'm happy to hear that my Occupy Americans Elect idea has gotten a bit more mileage than I was expecting. One of the two representatives of Anthony Gemma's campaign point out they're the only black and Latino people in the room. That's not technically true, but the point is ultimately correct. Rhode Island is much more white when compared with the rest of the country, and we're definitely delayed when it comes to integration. The other Gemma campaign member makes another good point when she says that fingering blame between communities isn't going to create a solution when a Progressive Democrat says that attempts have been made to reach out to black and Latino youths. These two Gemma folks are young, and one says that the older generations are more unwilling to work together (Rhode Island also skews older than the U.S. average). Ultimately, I wasn't overly enthused with the progress made at this, nor did I really understand what the purpose was for this "caucus".
My final panel of the day was Why the Fed Is the Most Important Economic Issue You Know Nothing About was not as engaging. Moderated by Mike Konczal of the Roosevelt Institute, it featured Karl Smith (who is an economist at the University of North Carolina), Matthew Yglesias (of Slate's Moneybox blog), and Lisa Donner (Executive Director of Americans for Financial Reform) this was probably a draw mainly because of Mr. Yglesias (popular in policy wonk circles) and because the Federal Reserve is such a hot issue. Unfortunately, everyone but Ms. Donner shied away from stronger critiques of the system, mainly focusing on how the Fed was too focused on the dangers of inflation. Ms. Donner really hammered away at the need for a Volcker Rule and perhaps even stronger legislation, and even brought up the state bank idea that's been bandied about.
The inflation bit was interesting, paraphrasing William Jennings Bryan, Mr. Yglesias said "you shall not crucify mankind upon a cross of 2% inflation targeting." He also rightly made the point that fiat money is frightening to people; it's not easy to realize that money itself is backed only by faith in it. It really is a confidence trick. That said, the idea of returning to a gold standard isn't any less of belief-based system, it's just believing in a shiny mineral instead of a strong government.
Ultimately though, even the Beyond Occupy panel was more visionary. It seemed like these speakers were especially trapped in the system that existed, and with the exception of Ms. Donner, were unable to see beyond it. And ultimately, people in the audience stood up and called them on it. That was probably the most electrifying moment, when an older gentleman stood up and criticized the panel for talking blithely about unemployment without taking into account the way people actually suffer in unemployment.
I ran into some Occupy Providence members around. One was unhappy with my post criticizing Occupy's targeting on Thursday, pointing out that a budget day action had long been planned. He also felt that the politicians on Smith Hill will bailout 38 Studios. I feel like bankruptcy means that they haven't bailed out 38 Studios (since you bail people out to prevent bankruptcy) and that the criminal investigation of 38 Studios by both federal and state authorities means this thing is about to get politically toxic. Smith Hill may soon become a gallows. On the other end of the spectrum, another Occupier told me not to worry.
So at the end of Day 1 of Netroots Nation, what's the feeling? Well, that the good outweighs the bad.