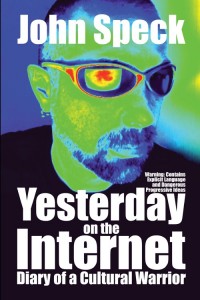 Three Rhode Island progressive authors will "battle it out" at Netroots Nation in what is being billed as "an idea free-for-all." The meeting of the minds will take place at 2 p.m. on Thursday in the fifth floor Rotunda of the Convention Center.
Not only are all three published by Light Publications – billed as a "fiercely independent" publishing company, but all three are also correspondents for RI Future.
According to a press release:
"In one corner, John Speck, author of 'Yesterday on the Internet' will lay out his take on the endless war machine that seems to be running America. In another corner, Mark Binder, author of 'Stories for Peace,' will share his view of harmony and cyber-bullying. And in the third corner, Tom Sgouros, former candidate for RI Treasurer and author of 'Ten Things you Don't Know About Rhode Island,' will offer his extraordinary calm, and rational take on what's really going on."
The authors will be signing copies of their books, and available for question and answer following the presentation. You can also catch them at the Working RI/RI Future happy hour on Wednesday night at the Convention Center.
Here's a brief bio on each of them:
Tom Sgouros is a freelance researcher and writer about public policy, statistics, software and assorted other technical topics. His clients range from candidates for office, to advocacy groups and Fortune 500 companies. In Rhode Island, he has done policy work with Ocean State Action, Working Rhode Island, and the Sierra Club, among several others. He edits the Rhode Island Policy Reporter, and writes a newspaper column that appears regularly in ten newspapers around the state, and irregularly in several others. He has also worked as an an engineer, videographer, fire-eater, circus producer, and robot impresario. He lives with his wife and two daughters, by the seashore, on RIPTA's number 14 bus line.
John Speck, aka Frymaster, was born in a working class New Jersey town, raised in a "snotty, white, Connecticut suburb" and brought to life on the streets of San Francisco,John Speck is a living contradiction; whatever he does, he most likely does the opposite. An inveterate punk rocker, he took a degree from Oberlin College Conservatory of Music. His interests circle the globe, are fiercely local but also include the entirety of the universe and all of history, especially the part we don't know about.
His complete resume includes abject failure as a criminal and a rock star, average results in business and ringing success as a changer of people's minds. He describes himself variously as a "one-man socialist revolution", an "entrepreneur from the future", a "PowerPoint performance artist" and a "general-purpose genius". One press release claimed he has worked as "a gopher, a toady and an elf".
He is currently in charge of publicity for an internationally famous multinational corporation that specializes in making noise.
Mark Binder is a former candidate for US Congress, an author/storyteller and a student and teacher of martial arts. An award-winning book and recording artist, he travels the world, sharing his work at festivals, theaters, schools, libraries, churches, synagogues and other community centers. He holds a third-degree black belt in Aikido, the martial art for peace. He promises not to throw anyone across the room.