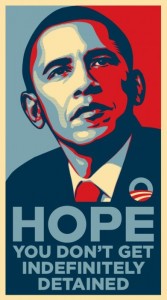 UPDATE: Huffpo covers our detain-a-friend Facebook app and previews the Reddit discussion here.
ORIGINAL: We're organizing an "Ask Me Anything" conversation on Reddit this Thursday at noon with journalist Chris Hedges, Pentagon Papers leaker Daniel Ellsberg, other plaintiffs, and the lawyers in the anti-"indefinite detention" lawsuit.  You'll be able to join the conversation here.
Indefinite detention was passed as part of the fiscal 2012 National Defense Authorization Act and signed into law by President Obama on New Years Eve last December.  It would allow the military to detain civilians — even Americans — indefinitely and without charge or trial. The provision we are fighting in this law suspends due process and seriously threatens first amendment rights.
Judge Katherine Forrest ruled entirely in our favor, calling the provision we're fighting (Section 1021 of the NDAA) completely unconstitutional. Two weeks ago we won the first round of this case, when Judge Forrest granted us a permanent injunction against Section 1021.  The Obama DOJ has vigorously opposed our efforts, and immediately appealed her ruling: This case will probably make its way to the Supreme Court.
What is most incredible is that government attorneys repeatedly claimed in court that Section 1021 provides exactly the same detention powers as another law, which we are not challenging. Not only did the DOJ appeal, they requested an emergency stay on the injunction – claiming the US would incur "irreparable harm" if the president lost the power to use Section 1021 – and detain anyone, anywhere "until the end of hostilities" on a whim. This is now the rule of law. Please join us on this "Ask Us Anything", and please help us win!