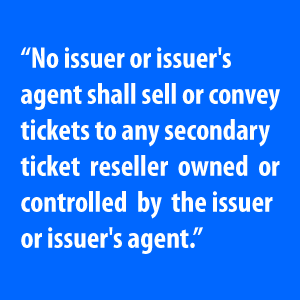 On the surface, the Ticket Fairness Act, pending in the General Assembly, looks like a consumer protection act that hurts the scalpers. In reality, it is exactly the opposite. As written, the law allows venues and ticket agents to transfer to themselves any quantity of tickets to resell at inflated prices.
As with many things in Rhode Island politics, it's not so much what the bill says as what it doesn't say. By comparing the RI bill—which is nearly identical to legislation pushed in other states by the dominant ticketing agent, Ticketmaster—to New York state's law, considered the gold standard for actual consumer protections, we can see how our legislators are foisting upon us yet another thinly-veiled ripoff.
Hot scalper-on-scalper action!
"The music business is a cruel and shallow money trench, a long plastic hallway where thieves and pimps run free, and good men die like dogs. There's also a negative side."

~ Hunter Thompson
Dr. Gonzo only says this because it's 100% true. This is a story where there are no "good guys".
The genesis of this legislation is that Ticketmaster and their cronies (Live Nation and Ticket Exchange) are watching other, equally evil entities (StubHub) make giant amounts of money to which they feel entitled. It's not that they actually want to protect the general public from getting ripped off. It's that they want to be the ones that do it.
The amount of money in this shallow trench is stupefying, easily enough to motivate the most heinous behavior. That two gangs would fight over controlling it should surprise nobody.
A ticket to a hot concert at the Dunk can sell for 10 or 20 times the face value. If you can get your hand on 1,000 tickets for $50 and resell them for $500, that's $450,000 in pure profit for basically doing nothing. That's roughly half a million bucks for one night's ripoff.
The RI bill does, in fact, make it much harder for StubHub to get their hands on large blocks of tickets. At the same time, it virtually guarantees that either the venue or the ticket agent will sell themselves large blocks of tickets to scalp at outrageous prices.
Are Johnny and Jenny Music Fan protected in any way? Absolutely not.
How a true entertainment capital handles this
In RI, we have maybe three or four venues that attract shows worth the attention of big-time scalpers. In New York City, that's one block on Broadway. No other place in the US has more invested in a thriving entertainment sector than New York. Not Branson, MO; not Nashville; not Memphis; not even Las Vegas.
New York state has a comprehensive law to regulate ticket sales and resales that truly protects the general public. This law—Article 25—contains provisions that the RI bill lacks. By adding these provisions to the RI bill, the GA could actually do something good for the people of RI.
Specifically, Section 25.30 regulates not ticket resellers but the original sellers, called "operators" in their law and "issuers" in the RI bill. 25.30.3 states:
No operator or operator's agent shall sell or convey tickets to any secondary  ticket  reseller  owned  or  controlled  by  the operator or operator's agent.
24 words; problem solved. We find no such provision in the RI bill, but any legislator could introduce such an amendment.
You know what? Bunk that. It shouldn't be any legislator; it should be Senator Josh Miller, who somehow is a co-sponsor in the senate. Your Frymaster is actually quite disappointed in the feisty Cranstonian that he could be bamboozled to such an extent.
As a savvy business professional, working specifically in the Downcity nightlife sector, one has to wonder how this multi-venue owner could not see through these shenanigans. And it's much better for all of us if the question is "how" and not "why".
Senator Miller, please fix this bill or withdraw your support and act to defeat it.
Addendum: E-tickets
Others on the left make an equally strong argument that the "any ticketing means" provision of the RI bill only serves to let venues and agents control resale by regular ticket buyers. This is true, but not the focus of this post. Interested readers can find the fix for this particular nastiness in NY 25.30 (c) that specifies that ticket buyers must be able to control resale of their tickets without interference by the venue or agent.