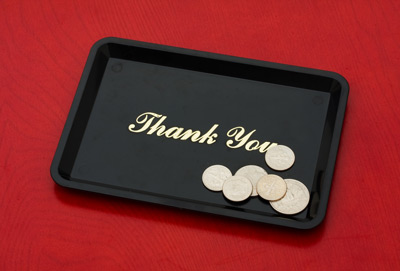 There are two minimum wages in this state, as in many states. There's the one you always hear about that applies to almost everyone and every job, which is around $9.00/hr. right now. Then there is the other one, for the people who didn't have a strong-enough lobby when the minimum wage bill was first written and subsequently modified. They are mainly restaurant servers – waitresses and waiters. Their minimum wage is currently $2.89/hr. in RI. Hence, it is referred to as the sub-minimum wage, or as I like to call it the substandard minimum wage.
Legislation heard last night would raise the sub-minimum wage to be equal the minimum wage over four years, so that in 2020 the sub-minimum wage would effectively be eliminated for servers.
Some of the Big Issues
How does one live on $2.89/hr.? They don't. The idea is that tips make up the difference between $2.89 and $9.00, and current law in fact states that owners must add to servers' income whatever is necessary to bring $2.89+tips up to $9.00. For that matter, how does anyone live on $9.00/hr.? Again, they don't. That's way below the poverty line. But that's another story.
Note that tips are supposed to reward good work, above and beyond what is required of the server. At least, that was the original intent, but now they are formally part of 'regular' wages. I'll bet most patrons do not know that. I didn't.
Does anyone else see a problem with this? Like, what about all of the slow nights when there are hardly any tips? Even including the good nights the typical server's income is nothing to write home about.
Many numbers for the actual average server wage, including tips, were tossed around last night. About $8.50/hr. seems to be the most believable. But wait: weren't servers guaranteed to get $9.00/hr.? Unfortunately some wage theft and other unscrupulous practices occur in some restaurants. But, again, I digress.
Another problem: in order to get decent tips, a server has to suck up to her patrons. The servers that look the best, smiles the most, and doesn't complain, make the most. If you don't want to fit this picture, tough. Like it or get another job. Several restaurant owners at the hearing actually said things like this.
There is a LOT more to this, which others have or will addressed.
Observations on Dubious Observations
1) One of the senators on the committee hearing the bill asked: If there are thousand(s) of servers in RI, and they support the bill, why aren't they all here testifying tonight?
Comment: (We ignore the ludicrousness of this question in the first place.) As a testifier pointed out, most servers have to be at work by 4 PM (that was about when the hearing started). But OK, putting that to one side, by the same reasoning, there are hundreds of restaurant owners in RI, why weren't all of them there last night? After all, they don't have to start at 4 PM, the servers (and others) are handling the work at their restaurants.
2) Many of the owners took personal offense at the testimony of the supporters of the bill. Many talked of their staff and themselves as "family." I have no doubt that the vast majority of the owners in that room are sincere, good people with good intentions. I told a couple of them that. They are also small-business owners, and they do have a tough life. My father was self-employed, I know.
Comment: But there are many owners out there who are not good people, and the state needs to protect all workers.
3) Many of the owners testified that their servers like the status quo. The owners know this because they asked their servers about it directly.
Comment: Anyone NOT see a problem with this? If your boss thinks that A is better than B, and (his) money is involved, and asks you, his worker, if you think the same, and you don't want to risk losing your job or making less, and you do want to feed your family, and you don't have a contract or tenure and are not married to the owner's sister, what are you going to tell him?
4) One of the owners told me that he didn't think that sexual harassment had anything to do with the bill and, implicitly, should not have been brought up by the bill's supporters.
Comment: Sexual harassment by the patrons is one of the things servers have to put up with to get decent tips. Unfortunately, it doesn't stop there, but many servers also have to put up with it from their bosses or managers. If a server resists or complains, the offending party can assign her to the low-tipping work in the restaurant, like assigning her to a small section (fewer tables, etc.).
That's It
Remember: tip high, tip often.