A large coalition to raise the tipped minimum wage was launched at the State House with a press conference and public testimony on House Bill 5364. Representative Aaron Regunberg introduced the bill that would gradually increase the the minimum wage from $2.89 to match the regular minimum wage by 2020. Senator Gayle Goldin introduced matching legislation on the Senate side. There has been no increase in the tipped minimum wage in nearly 20 years.
ROC United RI (Restaurant Opportunities Center) launched "One Fair Wage Rhode Island," an impressive coalition of community, labor, faith business and women's organizations that includes the Women's Fund of Rhode Island, RI-NOW, NAACP-Providence Branch, Farm Fresh Rhode Island, the Economic Progress Institute, the Bell Street Chapel, Rhode Island AFL-CIO, the Coalition of Labor Union Women, Rhode Island Jobs with Justice, Fuerza Laboral, NEARI, United Service and Allied Workers of Rhode Island, Planned Parenthood of Southern New England and Unite Here Local 217.
Many restaurant patrons are unaware that their tip is not simply a "thank you" for great service, said Senator Goldin, "It's paying your server's base salary, and nobody's base salary should entirely depend on a customer's mood."
More than just being an issue of fairness, this is an issue of impacting "women's economic security," says Women's Fund Executive Director Jenn Steinfeld. "Nearly three in four Rhode Island tipped workers are women, one-third are mothers, and more than half of these are single mothers." Steinfeld says that eliminating the tipped minimum wage will "help address the gender pay gap."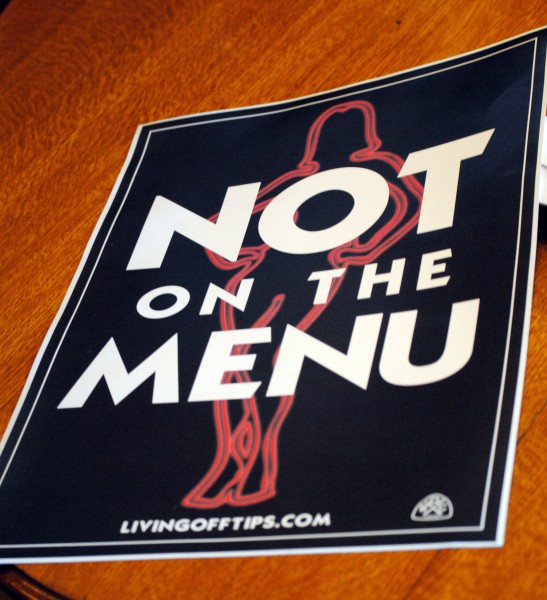 Being dependent on tips for their salary makes servers more vulnerable to sexual harassment, since telling a customer that their advances or flirting is unwelcome puts the server at risk of losing a tip. A recent report from the national ROC United found that, "Women living off tips in states with a $2.13 an hour tipped minimum wage are twice as likely to experience sexually harassment than women in states that pay the full minimum wage to all workers. In fact, all workers in $2.13 states, including men, reported higher rates of sexual harassment, indicating that the sub-minimum wage perpetuates a culture of sexual harassment." It's in response to this atmosphere of sexual harassment that ROC United has launched its "Not on the Menu" campaign.
There is also good economic sense in raising the tipped minimum wage, maintains Mike Araujo, of ROC United RI. ""Raising the subminimum wage will have an important stimulative effect for Rhode Island. When tipped workers earn more, that money goes right back into the local economy." ROC United estimates raising the wage will pump $64 million into the state's economy. Further, tipped workers in Rhode Island currently receive $638,325 in food stamps every month, which means that taxpayers are effectively subsidizing the restaurant industry through social welfare programs.
After the press conference there was a heaing on Regunberg's bill in the House Labor Committee. Though over 150 people signed up to testify, on both sides of the issue, in the end only 25 people could endure the four hour hearing waiting for their turn to speak. Those speaking against raising the tipped minimum wage were mostly members of the Rhode Island Hospitality Association (RIHA), a business lobbying group that routinely opposes any legislation that might raise the minimum wage or improve the ability of workers to collect money lost to wage theft. Many  of the RIHA members wore small golden pineapple pins.
"The states that have eliminated completely their subminimum wage," said Representative Regunberg describing the economic impact of his bill, "have as high or higher industry and  job growth rates as subminimum wage states."
Bill Kitsilis, of Angelo's Palace Pizza sees no reason to raise the tipped minimum wage, and said, "My tipped employees… are some of the highest paid employees in my business." He thinks $2.89 is fine, since that's what he predicated his business model on. Comparisons with other states are not valid, Kitsilis maintains, because other states have much, much stronger economies.
Representative Antonio Giarrusso asked about employee turnover. Kitsilis feels that turnover only happens when people aren't making money, and he also says that there are a lot of people hiring right now, making it difficult to find workers. An odd statement, considering Rhode Island's unemployment rate.
The issue of "side work" came up, that is, the work servers do for a restaurant, at $2.89 an hour, that doesn't earn the server tips. Side work is an old way of getting work done in a restaurant on the cheap, and is completely legal. Raising the subminimum would eliminate this disparity. Kitsilis said that such work "tends to be… a small percentage of what they do, most of the time…"
Representative Teresa Tanzi has worked in the restaurant industry for 14 years. "In those 14 years I have worked at dozens of restaurants, somewhere around 45 restaurants, I would say. And in all those restaurants, one has paid me according to the law." For fear of retaliation, she could never confront management about this. "I'm well aware that they are breaking the law, but there is nothing I can do. I am relying on my manager and the owner of that restaurant for my employment."
The Department of Labor surveyed 9000 restaurants over two years and found that 84 percent of them violate the law.
When Chairperson Joseph Shekarchi pushed back against Tanzi's experience, saying that he doesn't see the connection between low wages and harassment and abuse of servers, drawing on his experience as a bartender, Tanzi stuck to her guns and pointed out that the experience of women working as servers and men working as bartenders are very different. "It does happen and it's a daily occurrence. If someone touches you, or if you're waiting on a table and it's a party of ten and that's all the money you're going to make tonight, and they want to be fresh with you in some way shape or form… I refer to it as a 'golf clap' in my vernacular. Whenever someone says something that's 'funny,' you're waiting on someone and they something that isn't funny, you have to laugh. If someone touches you inappropriately, what are you going to say? There's very little recourse as a server that you have."
Rep Giarrusso's solution for "any woman or anybody getting sexually harassed" is that "they should hit somebody with a nine iron." Maybe he'll introduce legislation to that effect.
"The truth is, 60 percent of restaurant workers in Rhode Island are over the age of 24 and 32 percent of all of Rhode Island's restaurant workers are parents."
"I feel that the current wage devalues me as an employee," says Daniel Burke. Burke explained how the days and hours he is making good money from tips are averaged with the days and hours he's performing other tasks at the restaurant. As long as he averages minimum wage with the money provided by customers, the restaurant can get away with paying him $2.89 an hour. Of course, Representative Giarusso thinks that Burke should take this issue up with his employer because, "I would, that's for sure."
As a 31 year old mother explains that her bartender job requires her to perform duties that are not directly related to serving customers. Therefore no tips can be expected and the restaurant gets away with paying employees $2.89 an hour for work that any other business in the state would have to pay at least minimum wage to accomplish. Again, Representative Giarrusso misses the point, thinking that the issue of side work isn't related to this. As long as there is a two-tiered wage system, restaurant managers and owners will have an incentive to make workers do untipped work at the lower wage, rather than pay the server properly.
ROC United RI's Mike Araujo finally explains that "those extra tasks," that is side work, are "built into the job." Side work, prep and cleaning averages out to about 3 or 4 hours a day, which is "effectively unpaid labor." This profitable industry is built on the backs of primarily underpaid women.
Araujo may have summed up the night best when he said, "This issue speaks to how we believe society should be shaped. Do we believe that our citizens deserve equal treatment and deserve full equality, or do we believe that there is a second tier that women, increasingly, belong to?"
"Moving into a restaurant that paid over the minimum wage had such a tangible benefit…"
"When we talk about this issue we can't escape the fact that this is a women's issue… forcing a worker to rely on tips for any portion of their base wage significantly increases their chances of experiencing sexual harassment."
Once again, Representative Giarrausso claims that "I don't really understand the connection to sexual harassment… If someone's a jackass, for lack of a better word… I mean, I don't promote sexual harassment. I think those people should be tied up and jailed and never come out." Giarrusso claims he "can't draw the parallel" between low pay and sexual harassment.
But Giarrusso tips his hand as he grins and asks, "Is there an acceptable level of sexual harassment depending on how much you're getting paid?" This is simply a variation of the line, variously ascribed to George Bernard Shaw or Winston Churchill, "We know what you are, we're just haggling over the price."
In response to testimony quoting FDR, Rep. Giarrusso maintains that "there is data that shows that every time minimum wage goes up, so does unemployment." The US Department of Labor dispels that myth at the top of its page on the minimum wage. Giarrusso also brings up the specter of automation, as is done now whenever minimum wage increases are discussed. I deal with the automation argument here.
Joe Fortune, speaking below, wrote about his experience speaking before the committee on his own blog here.
Notice the pineapple pin. RIHA is in the house. This man is a CPA who specializes in hospitality. I am willing to bet he makes more than $2.89 an hour plus tips.
John Elkhay owns Ten Prime Steak & Sushi, Rick's Roadhouse, XO Café, Luxe Burger Bar, and Harry's Bar & Burger, as well as Veritas Catering. "Unlike the people who testified before me," says Elkhay, "I actually live and work in Rhode Island." I guess he wasn't listening to the experiences of the four speakers who do live and work in Rhode Island. After telling the committee about how many employees he has and how much money they all make, he throws them under the bus, saying, "They don't claim all their tips, by the way. That's a sneaky little secret."
"Don't say that in this building," says Representative Giarrusso, trying to make light of the comment.
Elkhay doesn't blink. "Yeah, well, it's the truth."
"Who is here, in the industry, saying there is a problem?" asks Chris Tarro, owner of Siena Restaurant Group, answering "I don't think there is a problem."
"Don't take my word for it," he continues. Rather, he recommends going out to dinner and asking a server. But, "don't ask if they want a raise, everyone would like one."
Tarro thinks that the kind of retaliation employees face for stepping up to complain about their working conditions is somehow equivalent to the reaction of potential customers when they hear about the ways restaurants pay their employees and the ways in which many restaurants exploit their employees. "When I testified last time here," says Tarro, "I got emails, I was on progressive blogs… there's a penalty to us coming here."
"I would like to give a nice big golf clap to Representative Tanzi and to anyone else who is trying to distract you from the issue at hand…" is as much as this sarcastic restaurant owner could say before being stopped by Chairperson Shekarchi, who advised not going after those who previously testified.
"I don't want character assassination," said Shekarchi, "It doesn't help your cause."
"I would suggest to you that twenty years… twenty years without a raise… I don't think there's anybody in this room that's going to work for anybody for twenty years without a raise."
Kristin Dart, speaking for Planned Parenthood, said that when women are paid more, they are better able to pay for essential medical care."If I have to choose between food on my table and my annual health exam, I'm going to put food on the table."
Speaking of her own experience as a server, she said that she was regularly told by her bosses that sexual harassment was "part of the job. If you want to make tips, then you have to be 'nice' to customers."
Amy Barclay owns Simpatico in Jamestown. She's worked her way up from being a server, pregnant with twins making $4500 a week to owning her own place.  She says, "This isn't a gender issue. This isn't a Planned Parenthood issue, this is a performance issue." Barclay says, "I was great staff. I still am."
Barclay has 15 core employees and 60 in season. "They beg for their jobs back," she says, "and they should."
Having worked in California, where there is no tipped minimum wage, and now working in Providence, Avi maintains that in California the restaurant industry is booming and that people in the restaurants out there have a greater feeling of teamwork. "It should be the employers responsibility to pay their employees, and not to pass that on to the customers."
Ray Desmarais, of 99 Restaurants, sounded like he was blaming victims for for their harassment when he said, "For anyone to be harassed in the restaurant business, shame on them for allowing it. Leave and come work for me. Cause I'm a good guy and I'll treat you well."
Senator Joshua Miller says, "…there hasn't been a minimum wage bill I didn't love, until today, until this bill." Miller feels this bill takes "important revenue away from some of my most valued staff." He owns three restaurants with over 80 servers. Senator Miller, like Representative Giarrusso, sees no relationship between low wages and sexual harassment.
Justin Kelley said that "it's time to raise the wage" in Rhode Island. Business models change, says Kelley, citing out the end of slavery, child labor and the eight hour day as examples. Compared to those changes, raising the subminimum wage should be easy.
"I think it's a human rights issue," says this restaurant worker from Olneyville, "I don't care if your male or female, that minimum wage needs to come up."
Bob Bacon is the owner of Gregg's Restaurants and the president of the Rhode Island Hospitality Association. He frequently visits the State House to testify against bills that might increase a worker's wage or strengthen a worker's ability to not have their wages stolen. Bacon feels that the Department of Labor is doing a terrific job enforcing labor laws, and no new laws are needed. Servers make a "self-reported" average of $12.12 an hour, says Bacon.
Sam Bell, president of the Rhode Island Progressive Democrats, explained President Obama's support for increasing the minimum wage and for increasing the tipped minimum wage. "Raising the full minimum wage and the tipped minimum wage will help reduce poverty among women and families as well as make progress towards closing the gender pay gap."
"Considering a tipped minimum wage increase… would cost ten percent of our current sales." This begs the question: Is the entire profitability of the restaurant industry dependent on paying servers subminimum wage? Do restaurant profits come solely from underpaying staff? How do restaurants remain profitable in California, where there is no tipped minimum wage?
She finishes the evening's testimony with, "we're seeing servers being replaced right now with technology all over the world."
As I've said before: technology like that is coming no matter what we pay our employees. The questions we need to be asking in the face of new technologies are bigger than minimum wage increases, such questions go to the heart of our economic system, and whether it's sustainable in the long term.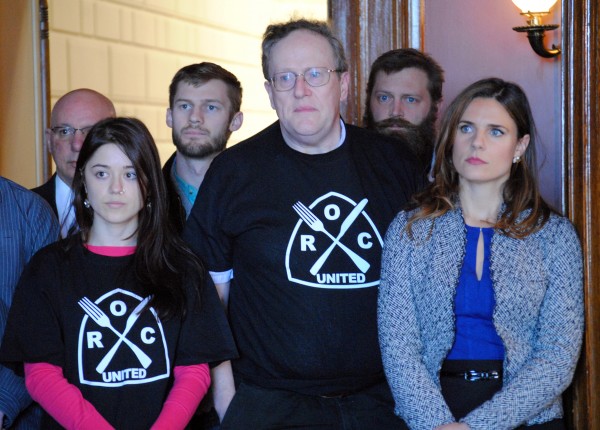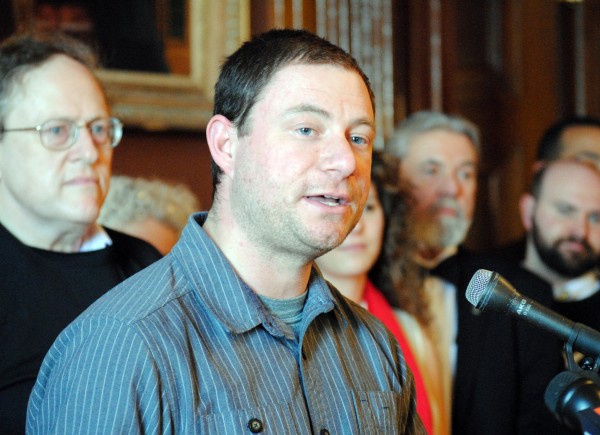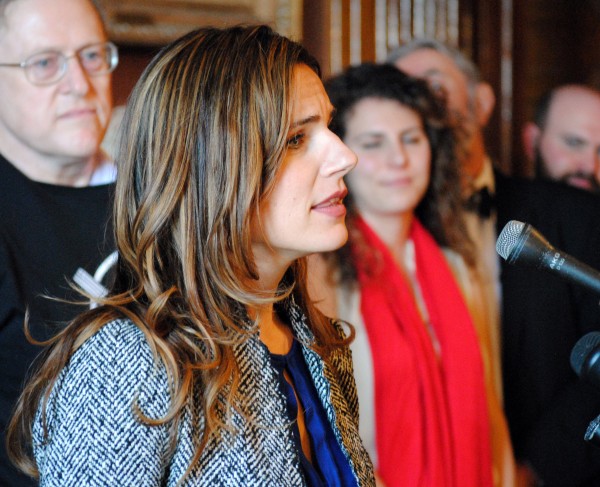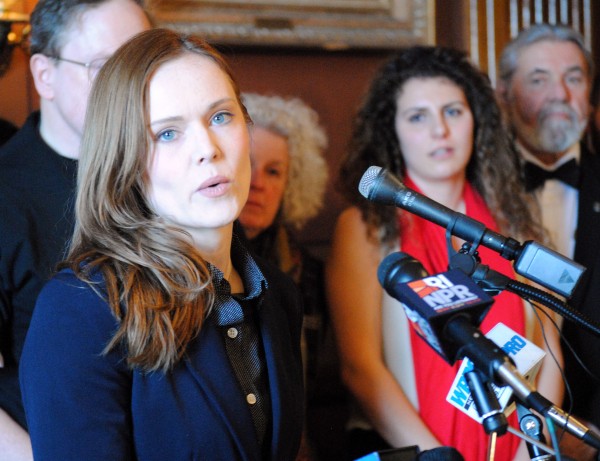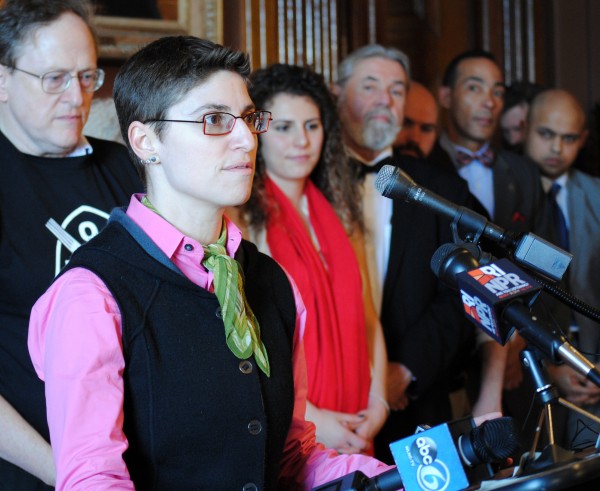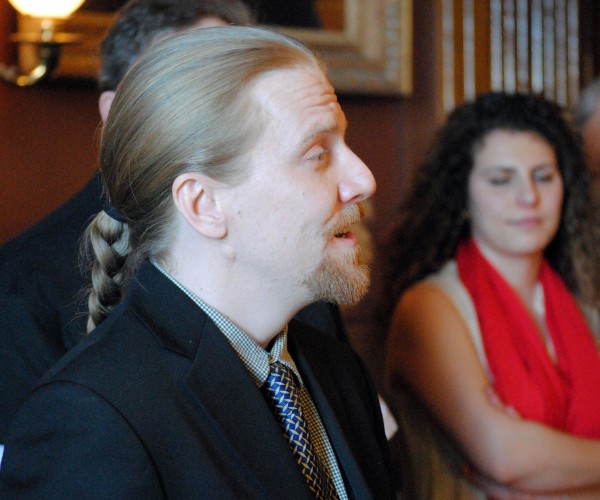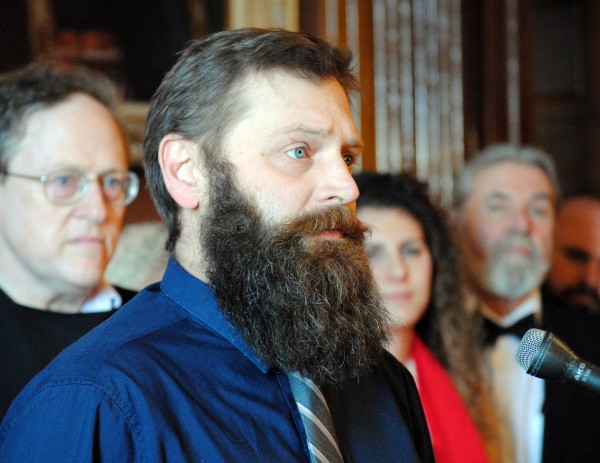 Tipped minimum wage increase debated at the State House

,