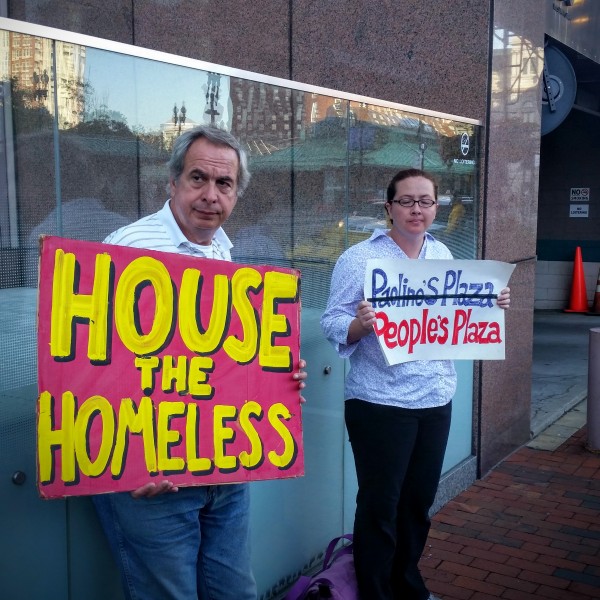 The issue of panhandling in Providence has been the subject of news articles, opinion columns and letters to the editor. The recent letter from Bishop Tobin and comments from Joseph Paolino, chairman of the Downtown Improvement District motivate me to present some alternative views.
I applaud the efforts of the Downtown Improvement District's (DID) willingness to convene a range of stakeholders to look for solutions to the increase in panhandling and vagrancy. It will certainly require a robust and sustained public-private partnership to address these issues.
But I am concerned with the notion that there is a quick fix solution, or that one more service program will provide the answer. Before jumping to solutions, I believe it is essential that we ask ourselves: Why? What are the underlying reasons for panhandling and vagrancy in our community?
Changes in the enforcement of the law explains the visibility of panhandling, but poverty is the root cause. Over 14 percent of Rhode Islanders live in poverty today. Given these numbers, the dearth of affordable housing, the lack of adequate mental health care and low wage jobs that don't allow workers to earn enough to support themselves and their families, it is surprising that this has been underground for so long.
It makes us uncomfortable, and it should, to encounter so many people in our public spaces who seem to have no place to go and are struggling with mental health issues and/or addictions.  These are our neighbors, they are suffering and we don't know what to do. But the solution is not to empower police to move these people out of sight so that others can enjoy a "clean, safe city."  I am not saying, that police should not intervene when law-breaking occurs.  I am saying that our efforts to address these issues should not focus on criminalizing people who are poor, homeless or mentally ill by depriving them of their rights to congregate in public space, to engage in conversation, or just enjoy the outdoors.
The Scripture I know teaches us to leave the corners of our fields and the gleanings of our harvest to the poor and to open our hands and lend to people whatever it is they need. We learn that helping fellow human beings in need is not simply a matter of charity, but of responsibility, righteousness, and justice. The Bible does not merely command us to give to the poor, but to advocate on their behalf.
I call upon business leaders, public officials and all of us to act with wisdom and compassion, to focus on the larger structural issues of poverty. And I hope that any proposed interventions are sustainably funded, based on models of best practice and built with inclusive community participation.
Rabbi Alan Flam is the executive director, Helen Hudson Foundation for Homeless America.
To stop panhandling, address poverty

,