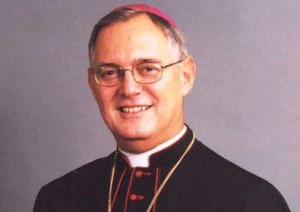 FAPSMEG (the Faith Alliance to Preserve the Sanctity of Marriage as Established by God)  is a coalition of religious and political groups, brought together by the executive director of NOM-RI, Christopher Plante, to fight against marriage equality rights. The coalition marks the first time the local Catholic church, and perhaps the first diocese anywhere, has joined forces with an organization the Southern Poverty Law Center has identified as a hate group.
MassResistance has erroneously claimed that pro-equality groups supporting anti-bullying programs in schools "actually want to lure children into homosexuality and, very possibly, sadomasochism," according to the SPLC. Its founder and executive director Brian Camenker has erroneously claimed that in Massachusetts "gays were trying to get legislation passed to allow sex with animals," according to the SPLC.
In an interview yesterday, Mark Potok, a senior fellow with the Southern Poverty Law Center told me:
In our experience, it is highly unusual for the Catholic Church to work with groups like MassResistance, which has repeatedly, and utterly falsely, linked homosexuality to pedophilia, among other things. This is a group that lumps homosexuality in with criminal behaviors like bestiality, claims gay people are dangerous to children, and says, again falsely, that no gay people were murdered in the Holocaust.

I should add, however, that we've not seen any real history of the Catholic Church working with hate groups. It may be that in this case they've simply failed to look into the background of the group they're allying themselves with. At least I hope so.
I hope so as well.
I call upon Bishop Thomas Tobin and the Providence Diocese to repudiate the ugly comments and hateful views of MassResistance and Brian Camenker. I would hope that this alliance was made in haste and in error, and that the Catholic Church would not want to make alliances with groups that put to a lie the Bishop's assertion that individuals with same-sex attraction are to be treated with respect.
The Roman Catholic position on same-sex marriage is well known. They  believe it is sinful and are against it. But as Bishop Thomas Tobin states, in an editorial reprinted on the FAPSMEG website:
It's important to emphasize once again, however, that while rejecting homosexual activity, the Catholic Church has consistently promoted respect and pastoral care for individuals with same-sex attraction. They are children of God and our brothers and sisters.
This is the concept of hating the sin but not the sinner, and I get that. MassResistance, under the leadership of Brian Camenker, does not share this sentiment.
Tobin Aligns With Hate Group to Oppose Equality

,