Earlier this month, the good people at the Mystic Aquarium Animal Rescue Team did the unusual, releasing three seals – two harps and one gray seal – at the same time at Blue Shutters Beach in Charlestown. 
The three seals, Pluto, Pandora and Curie, plopped out of their carriers and waddled down to the water to begin their normal lives in the wild.
The Mystic folks warn people to be careful when they find an injured marine mammal and to contact local police or the Mystic Center first on their 24-hour hotline, 860-527-5955, extension 107.
Rescued marine mammals come to Mystic from all over New England to be treated for illnesses or injuries before they are set free from one of Charlestown's beaches.
They also run educational programs and also try to inform the public on the right thing to do when encountering a stranded or injuries marine mammal. If you read on, you'll see how one guy who would like to be Rhode Island's next governor obviously didn't get the memo.
What not to do if you see an injured seal
Giroux is a construction contractor not a veterinarian.
Of course, he took the obligatory photo for his Facebook page, perhaps thinking this will somehow boost his chances with the voters.
Giroux is not the sharpest pencil in the pencil box.
Neighbors called the police who went to Giroux's house to tell him to put the seal back, and contacted DEM.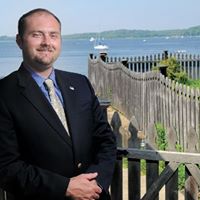 By the time DEM arrived, the seal was gone. They did not find a body. DEM told WPRO that the feds are investigating since Giroux's action was a violation of federal law.
Giroux is one of several candidates running for state office this year who have no business doing so. I regret to say that Giroux is running as a Democrat, although he is picking up some right-wing Republican support.
In this age of shrinking news coverage of real news, Giroux has been treated as if he's a real candidate with real ideas, rather than a crank. I'll be writing more about Giroux soon to back up my assessment of his qualifications. There's a lot more wrong with him than just acting like an idiot with that injured seal.
This article originally ran in Progressive Charlestown, where you can see even more pictures of the seals Mystic Aquarium released in Charlestown.